Hints You Can Drop to get the Ring You Want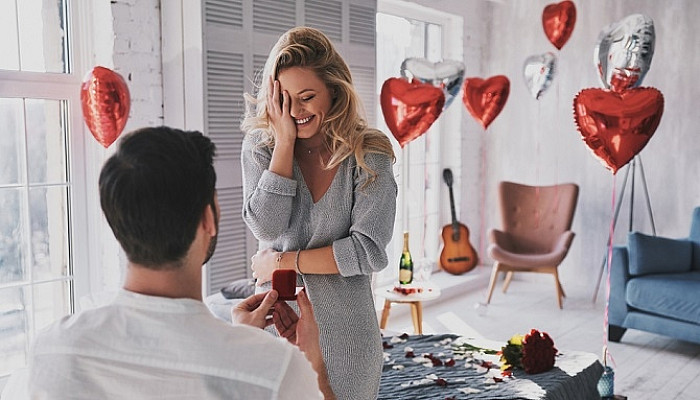 Love is blind and we all know that. We know, if you love a guy, you'd be happy even with a plain band. But believe us Your Mr. Right would be willing to know your desire. If you are getting vibes that he might propose you in any day, make sure he gets the ring of your choice. Letting him know about your ring choice may seem difficult, especially when you want him to make it a big surprise. There are ways using which you can convey your message in an indirect way.
Be with us in this article and learn how to drop hints to get the ring you desire. So, let's get started.
Share a Picture
You know what you want and where you will get that. So, what a big deal. Let him know what's your choice, though in an indirect way. You need not tell him that I want this ring, rather you can show him a picture showcasing a ring that you want him to buy for you. You can casually discuss your choice so that he gets a hint about your type of ring.
Another thing that you can try is put a wallpaper, showcasing your dream wedding ring, on your phone, laptop, Instagram feed, and maybe on the Facebook page too. Doing so, he may notice that you are fond of that kind of rings and may consider the same while buying the wedding/engagement ring.
Got the ring on a magazine cover, point it out and casually mention what you like about them. All in all, you need to drop a hint in the form of images so that he gets an idea what you actually want him to buy. Make sure you do not show him such pictures if he is not ready to buy a ring. He might not remember these pictures when he actually wants to buy one. So, there's a right time for everything, and make sure you make a move at the perfect time because at the end of the day it's all about timings.
Ask your Common Friend to Help
It is completely fine if you do not want to disclose the ring choice on your own, but what if one of your common friends can help? Yeah, you heard it right. You can actually take advantage of your close friends who are also close to him. The point here is to use them as a mediator, not the communicator.
Show them the pictures of your favorite ring designs or have a conversation about what you like about the rings and what not. If they are connected to your would-be, he might be asking them for your taste, and that time this trick would actually come into play. Bang On!!
Shop Together
If you are the person who has a practical mindset, you'd rather prefer a ring that suits your style than getting a big surprise. While walking past a jewelry store, take a pause and take a look at the rings. If you are afraid that the salesperson would ask you to try some rings, go for window shopping. Let him know you are interested in getting this type of ring so that he can buy it later. Doing so, you will let him know your ring type and the place from where he can buy that. As simple as that.
Leave this on Your Sister
If you have a sister, you would not require doing anything. She knows you the best and will manage to communicate the same to your would-be, in a cryptic way. Sisters are the ones with whom every girl share her likes and dislikes, we all know that. "We" includes your would-be so, he would be knowing whom to contact first when buying a wedding ring for you. He might ask your sister about your choice or take her out while shopping for the best wedding ring. So, let your sister do this job and you just wait for the big surprise.
The Conclusion
Buying the engagement or the wedding ring may seem a one day task, but keep one thing in mind that you are going to wear that ring for a lifetime, unless or until it needs to be replaced or repaired. Hence, be practical and get the ring what suits your style so that wearing it all the time doesn't look a daunting task.
Hope this works for you.
Share your thoughts with us. Leave us a comment in the comment box.