JA New York Jewelry Show- Witness The Spectacle This August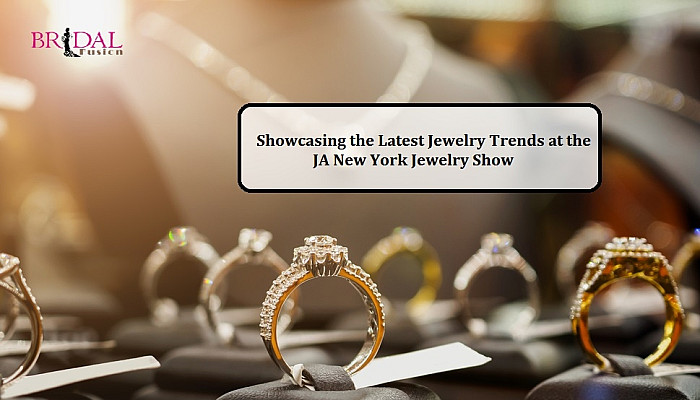 Of all the major trade shows in the United States, only one jewelry trade show is called the leader in the country. The JA New York Show happens every year in summer, fall, and winter, bringing together the country's East Coast for three dedicatedly focused days of trends, purchases, and networking. Former owners of the JA New York Show, the organizers, Jewelers of America, have a special partnership with the trade show, organizing, producing, educating, and partnering on certain special events.
Unlike other trade shows and jewelry expos, the JA New York Show is at the heart of the entire industry, catering to the tristate area. It offers intimacy and ease of navigation in the whole show and trading area for new retail buyers worldwide. This show is the right way to seek help from the NYC premiere jewelry trade show to get exclusive access to the desired buyers, network with them and shape your retail business' future success.
Details about the show:
Date
August 8, August 9th, and August 10th, 2021
Time
From August 8th to August 9th, 2021: 10:00 AM - 6:00 PM
For August 10th, 2021: 10:00 AM - 4:00 PM
Place
Jacob K. Javits Convention Center
655 W 34th St New York NY 10001
USA
Who cannot be a part of the show?
Admission to the show shall not be granted to:
- Individuals under the age of 16
- Individuals operating their retail business from home
- The general public and non-trade guests
Who can be a part of the show?
All the attendees looking to be a part of the show must be active retail buyers, wholesalers, designers, and people associated with the jewelry industry.
Retailers
A retail buyer trying to be a part of the show must register before entering the event and must possess any two of the following:
1. Invoices - Current invoices of the last 12 months for product quantities worth at least $5,000 from at least four different jewelry suppliers.
2. Retail business license
3. First two pages of the store lease supporting your claim of being a legitimate retail business or photographs of inside and outside of the store with name and signage.
4. Letter of intent from an attorney or bank on official letterhead for new business
5. Active website address of the company business for online jewelry retailers
6. Mail orders and printed catalog
7. State or Country sales tax permit or seller's permit
8. For non-traditional jewelry sellers, like clothing boutiques and galleries, it is mandatory to submit invoices of a minimum of $1,500 as a combined total
Note: One of the documents must be invoices of finished jewelry
Wholesalers
A wholesaler trying to be a part of the show must provide any of the two following documents:
1. Three invoices showing purchases of finished jewelry or jewelry supplies in the last 12 months for multiple quantities, a combined total of worth $5,000 from at least four different jewelry suppliers.
2. List of three customer references (Authentic Jewelry Retailers)
3. Active web site address of the company business for validation
4. Firm's state/county sales tax permit or a seller's permit
Note: One of these documents must be the invoices related to jewelry.
Registering and Attending the Show
Attendees
For attendees who are looking to be a part of the show as a trade buyer or a wholesaler, you can register here.
For more information on the qualifications of a buyer to attend the show, click here.
Exhibitors
For exhibitors looking to display their latest collection, they can register here.
You can refer to the exhibitor resource for the Jewelry Trade Show here before registering.
Press
Journalists, media outlets, editors, writers, and bloggers looking to be a part of the extravagance can register here.
With the JA New York Show, you can:
1. Place and finalize your orders
2. Stock up on new and trending jewelry collection
3. Shop from exclusive 700 vendors in the heart of New York
4. Attend the educational program hosted by the Jewelers of America
5. Get access to the latest collections and trends
From rubies to diamonds to sapphires and gold, Jewelry Trade Show has it all
The Jewelry Trade Show in New York is an order-writing jewelry show, where over 40% of the participants have average sales of over $500,000, serving the clientele from regions with a high per capita income in the US. Retailers here come to the show with generous open-to-buys and purchasing intents; they are ready to compare the products, find more trends and suppliers, open new accounts while getting down to business. In fact, whatever they do, they do it in impressive numbers.
During each show in the past, over 90% of attending buyers have placed orders so far, and over 82% placed orders with new vendors.
Jewelry Trade Show 2021: Visitors
Get in touch with High-End Jewelry Designers.
New York's jewelry trade show 2021 is a perfect opportunity for high-end buyers and jewelry lovers to come together, exhibit, and indulge in the sale and purchase of unique, high-quality fine jewelry. They can come together, under one roof, and shop the latest collections from the globe. Some of the finest jewelry brands globally are here, representing every kind of taste, style, and price point.
The most comprehensive Jewelry Trade Show in the USA
JA New York Show is the only trade show that represents a wide range of product categories in an intimate boutique-like environment. Buyers in the show can focus on simply finding the designs that will set their retail business apart without being overwhelmed. The show focuses on ease of navigation, which ensures the smoothness of one's mind while making tough decisions.
The show has been reimagined and reinvented to reflect the extravagance and elegance of this progressive industry. The ultra-fine jewelry trade show is a platform for the latest and upcoming collection that buyers worldwide would love to see. When a buyer comes to shop at the exhibition, they will not just find a piece of jewelry; they will find ideas, opulent trends, and networking connections to build more profitable relationships.
List of Exhibitors
For more details on the exhibitors, please click here.