3 Exciting Places in Australia to Plan Your Perfect Wedding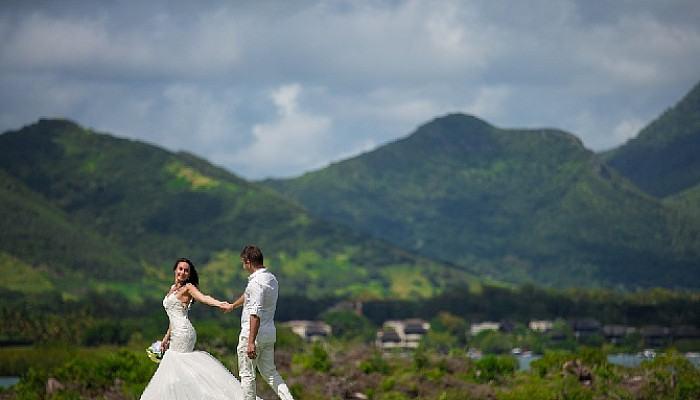 The island country of Australia is home to some of the most picturesque scenery in the entire world. Whether you have a vacation in mind or need a destination for your wedding, there is a myriad of options available that allow you to spend precious time with your family and friends, without any hassles. In addition, there are discounted airfares on offer that allow you to book a wedding venue on a dreamy island in the North Queensland or even have a winery wedding in the famous Barossa Valley. Be it stunning harbors, bustling cities, spectacular islands or pristine beaches, you can have every possible backdrop for your perfect destination do. Here are some of the wonderful locations in Australia that specialize in making your dream weddings a reality. Take a look.
1. Hamilton Island and the Whitsundays weddings
Here on the Hamilton Island, you can bear witness to some of the most spectacular views of the forest meetsthe sea. In addition, the great climate and scenery of the island add their own charm to the overall ambiance. Overall, one of the best things about having a wedding in the Whitsundays is that you can get almost anything.If you can see yourself hand-gliding or go-karting in a wedding dress, the resorts on Hamilton Island can definitely make it happen. You can also enjoy rejuvenating spa sessions or go on a diving spree at the world-renowned diving spot near the Great Barrier Reef; your call! Often, engaged couples take their wedding party for whale watching or a glass-bottom boat ride, for a more up close nature experience. That said, there is no best time of the year to visit the Whitsundays, thanks to the year-round sunshine and presence of ocean that help set up idyllic romantic settings across more than 10 ceremony locations.
2. Kangaroo Island weddings
The Kangaroo Island is not only famous for its picturesque views from gorgeous vantage points but also offers an array of seafood recipes that are simply awesome! With a variety of affordable accommodations offering unbelievable discounts, the Kangaroo Island definitely is one of the perfect wedding destination for foodies. Each year tourists from around the globe frequent the island to sample the irresistible cuisine that comprises fresh seafood, local sheep's milk cheese andwine. Picture yourself having a delectable formal lunch with your near and dear ones, before moving onto a picnic wedding, celebrating your vows over fine wines flowing freely, sounds exciting isn't it?
3. Uluru
Uluru is one of the most unforgettable, yet pristine wedding destination here in Australia. Popularly known as the Red Country, this quaint piece of land is no stranger to tourists from around Australia and beyond; therefore, you can be sure to find several unique options to plan your dream wedding. While Uluru's position near the heart of Australia, makes it comparatively easy for anyone to get to, the range of available experiences and sights spanning cultural, adventure, educational, wildlife and more, means that you are definitely in for memories that'll last a lifetime. Imagine a destination wedding with Uluru itself in the background, where you can tie the knot when the light is at its most brilliant, then sway to music under a starry night like no other!
Wrapping Up
Nowadays, many engaged couples are not much excited about having their wedding at a discreet community church or in a thriving metropolis. Rather, the idea of going off to someplace far off and romantic sounds more appealing to them. Therefore, couples from different demographics opting to have a destination wedding that can also serve as an extended vacation with family and friends. Of all the alluring destinations, the island country of Australia offers a unique roster of serenading beaches and drop-dead gorgeous views, along with a delectable palate of distinctive cuisine. Whether you have a destination wedding in mind that involves just the two of you; a select handful of your loved ones; or an expansive list of colleagues, you can be sure to find more than one stunning backdrop for your wedding.