Unique Ideas to Include Pets in Your Wedding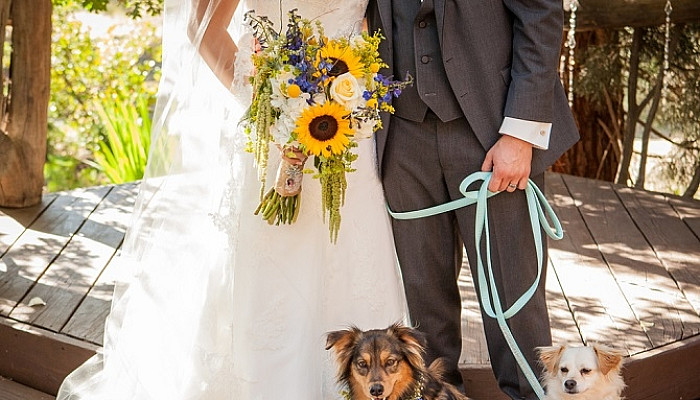 There are a lot of ways by which you can include your pet in your wedding photo shoot. Their presence on the most important day of your life can make a difference. Well, it depends on the way you include them. If you have a pet and you are wondering how creatively you can include him in your wedding photoshoot, be with us in this article.
The content of this article will cover some of the most popular photoshoot ideas that couples have tried with their pets. Scan down the whole content and pick up the best one for you. So, let's dig deep into the wedding photoshoot ideas with none other than our "Pets"!!
My Humans are Getting Married
Let your pet blow the trumpet with a "My Humans are Getting Married" board. This is a unique idea you can use to make your guests feel the presence of your pet. No matter what breed your pet belongs to, carrying the "My Humans are Getting Married" board and grooming all over the wedding venue, is too adorable to get them noticed. So, get a board and print it with the above-mentioned quote and hang it on your pet's neck. Once done, it's time to get it captured in the photographs. Ask your photograph to suggest you a pose that suits best.
Secluded Moments
Redefine the first kiss moment with your pet. The focus is not to interrupt your first kiss moment when exchanging the wedding vows, but to replicate the same later when doing a wedding photoshoot. Let your pet add more value at this moment. Want to imagine how will it look? Just look at the photograph given above and get mesmerized by the final results.
Here Comes the Bride
On the day of the wedding, you will be stepping out with your bridesmaids to the wedding ceremony venue. The whole eyes will be on you and this is what happens with every bride. What if, your pet makes an announcement that you are coming, few moments before you reach the venue? Didn't get it?
The point is to make your pet step ahead of you when moving forward for the wedding ceremony. You can hang a board printed with "Here Comes the Bride" to make a special appearance. If you are too connected with your pet, go for more personal printing. How about" Here comes the Mommy". In either case, do not forget to get it captured on camera so that you can revive all these memories after 20 or 30 years later.
With the Heels
You might have seen bride's accessories and footwear being captured on their wedding album. Wedding photoshoots in which bride is admiring her wedding dress, her footwear and other wedding accessories look awesome when clicked on camera. You might be planning to add the same to your wedding photo shoot. Right?
Hold On!! Do you have a pet? If yes, you can get such photos clicked along with your pet? It will add a special factor in the photograph. Want to see an example? Go ahead with this photograph.
Love is in Air
What about this photograph? You can actually replicate this moment with yours. Let your pet witness the love you both share your relationship. This wedding photo shoot idea with a pet can also be used at the time of pre-wedding photoshoot.
Wrapping it Up
There are many ways you can use to include your pets in the wedding photoshoot. Though you will get some ideas from your wedding photographer there is no harm in getting informed with the latest and coolest ones. Options are many, it just about how you use them creatively. In this article, we have tried to showcase some of the best photoshoots ideas that the bride and the groom actually try on the day of the wedding. We will keep updating this list, till then stay connected with Bridal Fusion.