Things you will get if Planning a Winter Wedding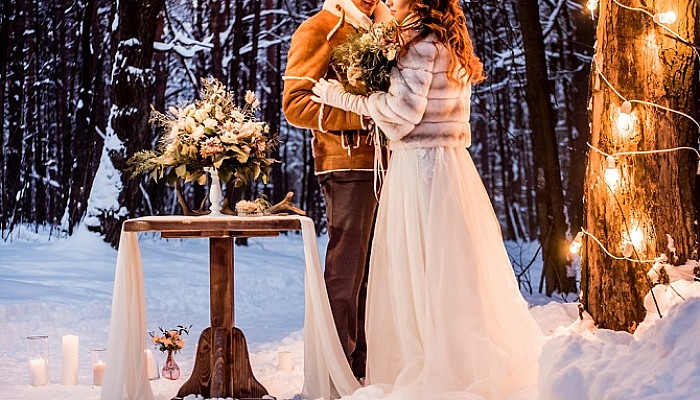 If you are a person who cannot deal with heat waves, planning your wedding in winters would fit you. There are things which you may not like in a winter wedding you won't be able to flaunt that backless wedding dress as it would be cold outside. Other than that, you cannot plan an outdoor wedding because of freezing weather conditions, and your bridesmaids may not wear their favorite outfit on your wedding day.
If you can ignore things as mentioned above, getting married in winters won't be a challenge. In this article, we will learn what are the possibilities that you can face when planning a wedding in the off-season i.e. winters.
Let's delve into winter's wedding planning and come out with some interesting facts.
1. Reasonable Cost
One of the reasons why couples get married in winters is the "Wedding Cost". It's a fact that winter's weddings are cheaper as compared to the weddings that happen in hot summers. Because of the winter season, you can not have an open wedding ceremony which actually helps in cutting the extra costs.
How?
In an open wedding, you need to keep other things ready, say a tent, a big umbrella, fans etc. Some of these are an alternative to bad weather conditions and others for beating hot sun rays. Installation of these alternatives may charge you an extra amount which you can save if planning a winter wedding.
2. Less Stress
No outdoor wedding means no need to stress about the bad weather conditions, sweaty mess, hot sun rays, and a lot more. Additionally, you won't be paying extra for all these arrangements which actually help you save a few dollars.
Let's not forget one more thing that all the brides-to-be would get because of less stress – a flawless glow on the wedding day. Yes, girls, you would be adding more glow on your face if planning your wedding in winters.
Less Stress + Flawless Glow + Lower Cost = Winters Wedding
3. Sweat-free Wedding
No matter how good your bridal make is, if you are getting married in Summers, you may become a sweaty mess on your special day. It's not only you who would be facing this, in fact, your guests would be struggling with the same.
4. Magic with Candles
Winter weddings are considered as darker nights weddings. Yes, you heard it right. If you are planning a late evening wedding ceremony or reception party, you would be enjoying a darker night on your special day. When it comes to beautifying nights with décor, candles are the best to choose. Use candles at every corner of your wedding venue and let them play their game. They are best to induce special effects on darker nights that no electric light can bring.
So, go for the candle décor and see the magic.
5. No Post-Wedding Fatigue
In daytime weddings, you may or may not book more than one wedding venue. One for the wedding ceremony and other for the wedding reception. Not only this, the number of wedding events also increase in the daytime wedding.
The more the functions you will organize, the more the post-wedding weddings would be experienced not only by the bride and the groom but, by your guests too.
All thanks to the winter wedding. Due to cold weather, couples often choose one wedding venue with least wedding events which ultimately reduces the post-wedding fatigues among the attendees.
6. Best Time for Formal Weddings
Want to see your guests, the groomsmen and every attendee in a formal wedding attire? If planning a winter wedding, you are good to go. This is the best time one everyone would love to wear a formal attire to keep themselves wrapped in warm clothes. You can also have a theme wedding wherein every guest including the groomsmen would wear black tie and a bow contributing to a formal wedding.
The Conclusion
Planning a wedding in winters is a good choice if you want to save money plus everything which is mentioned in the content of this article. But, yes there are disadvantages to winters wedding too. Maybe you see fewer guests on your wedding day because of bad weather conditions or you may not get a chance to wear your dream wedding dress like the strapless or the backless gown.