Wedding Games to Keep Guests Entertained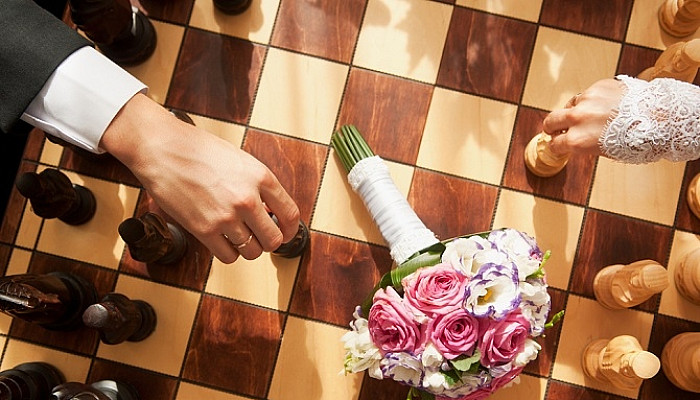 In Summary: This article throws light on the gap that exists between the wedding ceremony and reception. Here, you will learn about fun games & activities for the wedding reception that will make your guests happy and entertained.
The wedding is not only about you and your Mr. Right. It's also about the guests who witness your special day with their presence and warm wishes. And, if you haven't planned something special for them at your wedding reception, they will get bored, for sure.
If you are getting married in the early morning, then your guests will have to sit for long hours for the reception. In that case, arranging some fun games and entertainment activities for them can keep boredom at bay.
Willing to know what kinds of unique activities you can arrange for your guests? Be with us in this article and get ideas about wedding reception entertainment games.
Twist with Flowers
Women love flowers and you can engage them in activities relating to flowers for hours. Here, the whole idea is to incorporate some creative activities in relation to flowers at the wedding reception. You can install a separate counter for that.
To start with, you can go for the DIY crown making station wherein women can gather and make their own crown. Frame instructions, provide flowers and raw materials and gather friends for to participate in this unique wedding reception activity.
Instruct the photographer to click pictures each time a group completes the crown making task. Your guests will love that.
Live Music
Live music has been amongst the best entertaining activities for guests at the wedding. Hire a professional live wedding band who can transform your wedding reception into something really special. You can go for the solo musicians or the one from the 80's theme bands. The choice is yours.
You might have heard the quote saying "Music flows from heaven to the heart". Make sure you provide them such kind of music at your special day.
Dancing with Instructors
You might have seen people dancing on the beats of DJ at wedding parties, but how many times you have danced with the instructors?
This is the point. Here, we are focusing on dancing with the instructors. How about hiring some professional dancing instructors who can actually drive your guests to come up on the stage and dance together. The whole scenario will reflect how entertained and happy your guests are at your wedding reception.
Interactive Food Stations
Gone are the days when caterers used to come to your table to serve your food and snacks. Everybody does that and believe us this is not enough to keep your guests busy through the reception. What you can do is install an interactive food station for guests so that they can go there and make a personalized food/snack for them.
You can think about interactive candy bar or fruit salad. A stall having 5 to 6 variants of food to choose from and making your own snack is really awesome. Try this for once.
Fun Games
From trivia cards to yard games, cootie catcher's game to fill-in-the-blanks story cards, when it comes to incorporating fun games for guests, there's a lot to choose from. So, keep a slot of four to five fun wedding reception games and make keep your guests entertained all the time.
If there is a huge gap between the wedding ceremony and reception, fun games would be the best alternative to fill that gap, precisely.
The Conclusion
These are the few things that you can try at your wedding reception. You can either go for indoor wedding games, unique wedding games, or outdoor yard wedding games. The choice is completely yours. The main motto of spending so much time on this is to keep your guests happy and smiling through the wedding reception.