Wedding Limousines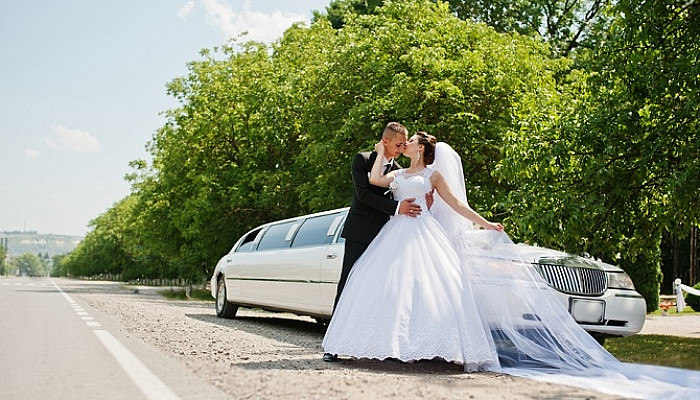 A limousine,more commonly known as a limo,is an unusually long luxury car, traditionally black or white in color. Limos are most commonly driven by chauffeurs.
While some limos are owned by individuals, many are owned by governments to transport senior politicians, by large companies to transport executives, or by broadcasters to transport guests. Most limousines, however, operate as livery vehicles, providing upmarket competition to taxicabs.
The word limousine is derived from the name of the French region Limousin, where the inhabitants wore a hood perceived to be similar to the profile of the car.
Types of Limos
A limo typically has a partition between the driver compartment and the rear passenger compartment. This partition usually contains a sliding glass window so that conversations between passengers in the rear compartment may be kept private from the chauffeur.
Traditional Limos
Traditionally, the limo has been an extension of a large sedan. A longer frame and wheelbase allow the rear passenger compartment to contain the usual forward facing passenger seat but with a substantial amount of footroom — more than is actually needed. Usually then two "jump seats" are mounted, facing rearward behind the driver. These seats fold up when not in use. In this way, up to five persons can be carried in the aft compartment in comfort, and up to two additional persons carried in the driver's compartment, for a total capacity of seven passengers in addition to the driver. This type of seat configuration has however become less popular in recent limousines. Newer limousines such as the Maybach 62, Lincoln Town Car;L Edition,and the Cadillac DTS do not feature such seats since stretch limousines are usually used to transport more than three passengers, excluding the driver. Vehicles of this type in private use may contain expensive audio players, televisions, video players, and bars, often with refrigerators.
Most stretch limos are Lincoln Town Car models. However, coach builders have recently built many new models including Hummer H2's and Hummer H3's.
Stretch Limos
Most modern limos are extended in length far beyond that required for personal use. These are typically used to transport partygoers to and from events such as prom dances and weddings. These vehicles are often based upon cars with body on frame instead of unibody construction easing the conversion into a stretch limo. Rather than the typical transverse seating these will have benches along the length of the extension, either on one side or on both sides. This allows the travelers to face one another, unlike the traditional "stage" vehicle, which uses multiple doors to access rows of forward facing seats. In addition to the traditional black (considered appropriate for funerals, as it is a mourning color in western societies) many white limos are now operated (considered appropriate for weddings in western societies).
Stage Limos
Another type of vehicle modified for multiple passenger use is the motorized stage, applied to the same tasks as the earlier stagecoach. It is not considered a true limousine but rather in its design and application is between a sedan and a bus. While a bus will have a central interior aisle for access to seating, a stage has multiple doors that allow access to transverse forward facing seats. Examples of the type were constructed not only from sedans (e.g., Chrysler New Yorker, Cadillac DeVille), but also from station wagons; many of the station wagon conversions sported a large rack, running the length of the roof, for carrying the passengers' baggage.
This type of vehicle was once rather common in some locations. An example of its use was in the transport of travelers arriving by railroad at Merced, California to Glacier National Park and Yosemite National Park in the first half of the 20th century. In Glacier National Park, these were referred to as "Jammers" in reference to the nickname of their gear-jamming drivers. In Yosemite, passengers would then stay in rustic platform tent camps or more expensive lodges (both of which are still available) and hike or rent bicycles for movement around the park.
A modern version of the stage limo is seen in some novelty stretch Hummer or Hummer H2 vehicles. Some funeral homes maintain six-door stage limos to carry the family of the deceased between the church and the cemetery. These are usually not used for private hire.
Exotic Custom Limos
Sometimes a custom coach builder or custom car designer will develop the "ultimate" stretch limo, adding amenities that are somewhat impractical but which make a significant design statement. One such design includes double rear axles to support the weight of an operational hot tub.
Custom coach builders can perform aftermarket extensions on luxury sedans and SUVs. These extensive limousine conversions have been performed on several luxury marques, including: Audi, Bentley, BMW, Cadillac, Chrysler, Ford, Holden, Hummer, Infiniti, Jaguar, Lexus, Lincoln, Mercedes-Benz, and Rolls-Royce. In the United States the most popular vehicles for stretch limousines conversion are the Lincoln Town Car, Cadillac DTS, Hummer H2, and the Lincoln Navigator. There are even instances of Corvettes and VW Bugs being stretched to accommodate up to 10 passengers.
Most custom coach builders are located in the United States and Europe and cater mainly to limousine companies. Few such vehicles are available for public hire. A typical price to buy a Lincoln Town Car sedan and have it stretched to hold 6 passengers is approximately USD $85,000 (at 2006 prices) depending on the additional features added into the vehicle. In addition to luxuries, security features such as armoring and bulletproof glass are available.
Limo Bus or Party Bus
A Party Bus or Party Ride is a large motor vehicle designed to carry many passengers. The most common sizes of Party Bus are a 16 Passenger version and a 20 Passenger version. Some variation exists, some Limo Buses may hold up to 30 or 35 passengers comfortably. A Mini-Bus comes in 2 common sizes: 24 and 30 passengers. Party buses may offer leather couch seating, surround sound stereo systems, CD/DVD player, plasma televisions, laser, disco or strobe lights, smoke machines and more. They are primarily used for, although not limited to, weddings, proms and bachelor and bachelorette parties as well as round trips to casinos, nights on the town, birthdays and city tours. There are differences between a typical 'Mini-Bus' or 'Shuttle Bus' and a 'Party Bus' or 'Limo Bus'. The main distinction is that a normal shuttle bus has a normal airline-style seating arrangement with a center aisle down the middle with 2 seats on either side. A Limo Bus or Party Bus has the seating arrangement of a limousine, with leather couches surrounding the open middle section, i.e.; 'surround seating'. The Limo Bus is also defined by the luxury of the vehicle - it has the usual assortment of luxuries such as: a star light ceiling, at least one but more often multiple flat screen TV's with DVD/VCR capabilities, Sony Playstation 2's or XBox's are common, there are many with hardwood floors or fireplaces. Business often use Limo Buses for their corporate roadshows because of the level of comfort afforded them in these vehicles.
Typical Uses of Limos
The most common uses for limos and other chauffeured transportation include: corporate roadshows, airport transportation, funerals, weddings, proms, bachelor[ette] parties, birthday events, city tours, shopping, a day at the spa, nights-on-the town, bar-hopping and clubbing, holiday parties, holiday light tours, transportation to or from a resort and crosstown transfers.