Hiring a Caterer for your Wedding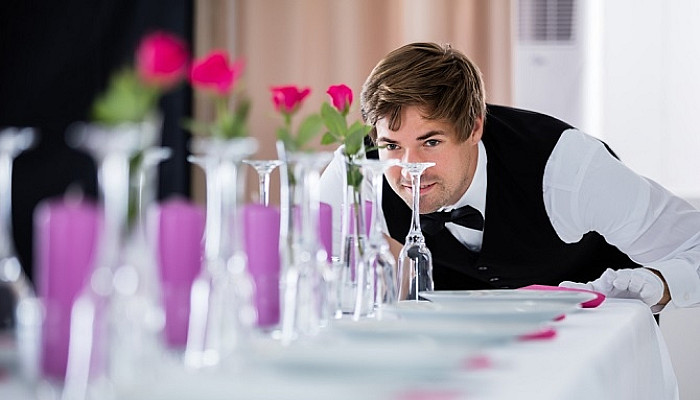 Finding a Caterer for your Wedding
Other than selecting the site for the ceremony and reception and obviously setting the wedding date, catering is the single most important step for new brides and grooms to be.
But finding a caterer that is established is important. Good caterers are usually a vast source of contacts of entertainment (for DJ's or a band), photographers (to record that happy moment), and florists (for table arrangements, and decorating).
To find established caterers in your area:
Ask friends and relatives, neighbors, or local businesses that have hosted catered events for possible recommendations.
Call museums and historical venues to see what caterers are on their preferred catering list.
If you will be renting a hall or possibly a large tent, ask your hall operator or tent company for trusted caterers that they might know.
Online is a quick way to find caterers in your area, surf the web to see what might be appealing.
Once you have a few caterers that you are interested in, contact them by phone or e-mail to obtain more information. At that point, you may want to inquire about a proposal. For the caterer to establish a proposal, the caterer must be given instruction as to what your wedding plans are. Prepare your requirements before contacting the caterer in order to streamline estimated costs and preparation of event.
Gather Your Requirements
Where is the wedding and on what date and time? How many guests do you expect?
Where will the Caterer prepare the food? Do you have appropriate seating for the expected amount of guests? Will you need additional room, possibly a tent?
What type of spread will you be preparing? Hors d'oeuvres, a seated dinner? Maybe buffet or brunch style. Maybe something simple like tea or a cook-out? With seated or buffet dinners optional main entrees are something to think about. If there are cocktails, will there be enough food served so your guests feel full? Think about options for guests with food preferences or allergies.
What kind of attire should be addressed for the wedding: casual, semi-formal, black tie?
Keep in mind the budget and how much to apply to certain areas like serving staff (chefs, waiters, or bartenders), rental equipment, food and beverages, and don't forget the florist.
Is there anything unique about what you might want for your wedding experience, special decorations, or a possible theme? Maybe a certain brand of champagne or even party favors to commemorate the event. Anything that you might think will make the wedding stand out?
A caterer can create a proposal for you once you have provided information along these lines. When overlooking your proposal, expect to find a clear interpretation of the information you passed along to the Caterer. Has the Caterer consulted you regarding planning suggestions and your thoughts regarding the menu and the setting for your wedding? A well-established Caterer should provide a menu that is interesting without being outlandish. A wedding is not the place to test different culinary delights on your guests.
After looking over your proposal, and you are still interested in that potential caterer, meet with the caterer, or the caterer's sales staff. This is when you can review the menu options, seating, and staffing. Will the Caterer be providing everything thing that you need in regards to table placements and arrangements of all tableware (glasses, linens, napkins, silverware,… etc.) Are there any hidden fees for cake cutting or corkage, or administrative fee? Are all taxes and gratuity included? Are drinks included? Will you need to rent cooking equipment if there is no kitchen to cook in? Do not sign a contract without asking all of these questions, you might find hidden charges or items were not accounted for in the original proposal, and that your cost per guest might increase drastically. Ask the caterer to bring a portfolio to show you his previous weddings. Do you like what you see? Is the catering sales person friendly? You will have to work together many months, so make sure you like the person as well as what they are preparing for you. Will the caterer be overseeing the night of the wedding? Also importantly, who is the owner of the catering company?
After meeting with and revising the caterer's proposal, you may want to request a tasting. But while a tasting gives you an idea of a caterer's style, it still remains that to cook for two people in a caterer's kitchen is not quite the same as cooking for 150 people in a tent without plumbing! If you the tasting goes well, you may want to ask to sit in on an upcoming event that the caterer is performing. This will give you an understanding of the caterer's setup and presentation and also how well the serving staff performs. To see the caterer in action is essential step in selecting your choice. Another thought is to ask for references from recent weddings he has served.
If you've followed the outlined recommendations above, you have started with a carefully thought out decision as to what you want from your caterer. Now it is time to relax, sign the contract and enjoy your wedding. Congratulations!