15 Trendy Wedding Bar Ideas for a Memorable Reception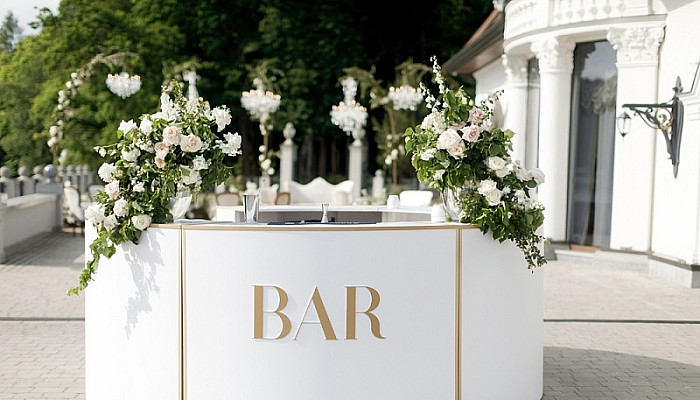 Planning a wedding involves numerous decisions, and one of the key aspects that can enhance your wedding reception is the selection of a trendy and impressive bar setup. A well-curated bar not only offers refreshing beverages but also adds an element of style and creativity to your special day. In this article, we will explore 15 trendy wedding bar ideas that will make your reception truly memorable.
15 Trendy Wedding Bar Ideas
1. Signature Cocktails
Signature Cocktails are an excellent way to showcase your unique taste and style as a couple. Crafted specifically for your wedding, these cocktails can reflect your personality and preferences. They provide an opportunity to name the cocktails after yourselves or incorporate a special meaning into the drink's ingredients. By offering signature cocktails, you create an exclusive experience for your guests.
2. Signature Beer
To cater to beer enthusiasts, consider including a Signature Beer selection at your wedding bar. Collaborate with local breweries to create custom brews that represent your wedding theme or story. Themed beer options, such as a tropical IPA for a beach wedding or a rich stout for a winter celebration, add a personalized touch to your reception.
3. Wine
Wine is a classic choice that adds sophistication to any wedding reception. Consider setting up wine tasting stations where guests can sample different varieties and learn about their unique characteristics. Enhance the experience by offering wine pairing suggestions for the dishes served during the reception.
To learn how to choose the best wine glasses, head to : https://bridalfusion.com/getting-started/24103-how-to-choose-the-best-wedding-wine-glasses
4. Champagne
Raise a toast in style by incorporating an elegant champagne bar into your wedding. Create a visually stunning champagne tower as a centerpiece or offer a selection of champagne cocktails. Let your guests indulge in the effervescence and celebration that champagne brings.
To keep your champagne at optimal temperature, check out types of wedding koozies at : https://bridalfusion.com/wedding-planning/25749-wedding-koozies-for-every-theme-from-rustic-to-beachy
5. Infused Water
Keep your guests hydrated and refreshed with infused water stations. Infuse water with various flavors like citrus, cucumber, or mint. Not only does infused water provide a healthy and flavorful alternative to traditional beverages, but it also adds a vibrant touch to your wedding bar setup.
6. Non-Alcoholic Drinks
Ensure that everyone can enjoy a delightful beverage by offering a variety of non-alcoholic drinks. Serve mocktails and virgin cocktails that are visually appealing and bursting with flavors. Fresh fruit juices and blends are also a great option to cater to guests who prefer non-alcoholic options.
7. Coffee and Tea
For those who seek a warm and comforting beverages, consider setting up coffee and tea stations. Provide a selection of specialty coffees and teas, including unique flavors and blends. This setup allows guests to unwind and enjoy a cozy cup of their favorite hot beverage.
8. Hot Cocoa
If you're hosting a winter wedding, a hot cocoa bar is a perfect addition. Offer gourmet hot cocoa with an array of toppings such as whipped cream, marshmallows, and flavored syrups. This indulgent treat will keep your guests warm and satisfied.
9. Punch
Punch is a delightful and communal beverage option that can be tailored to your wedding theme. Create signature Punch recipes that reflect your taste and incorporate fresh fruits and herbs. Set up self-serve punch bowls with ladles, allowing guests to help themselves and mingle around the punch station.
10. Sodas and Juices
Include a selection of artisanal sodas and craft juices to cater to guests who prefer non-alcoholic carbonated beverages. Curate a variety of flavors and brands that go beyond the usual options. You can also set up a customizable soda bar where guests can mix and match their favorite flavors and garnishes.
11. Kombucha
For health-conscious and adventurous guests, consider having Kombucha on tap. This fermented tea beverage offers a range of flavors and is known for its probiotic benefits. Provide a selection of kombucha flavors and let your guests enjoy this trendy and refreshing drink.
12. Mocktails
Elevate your non-alcoholic drink offerings by creating an extensive menu of Mocktails. These alcohol-free cocktails can be just as delicious and visually appealing as their alcoholic counterparts. Set up interactive mocktail stations where guests can customize their drinks with various syrups, garnishes, and mixers.
13. Shrubs
Introduce your guests to the unique world of Shrubs, which are fruit-infused vinegar drinks. These tangy and refreshing beverages offer a delightful twist to traditional options. Experiment with different fruit and herb combinations to create shrubs that surprise and delight your guests.
14. Sangria
Sangria is a vibrant and fruity beverage that adds a festive touch to any wedding celebration. Set up Sangria stations featuring different recipes and variations. Offer options like white wine sangria, red wine sangria, or even sparkling sangria for a sparkling touch.
15. Non-Alcoholic Beer
To accommodate guests who prefer non-alcoholic options while still offering a beer experience, include a selection of non-Alcoholic Beer at your wedding bar. Many breweries now craft delicious non-alcoholic beer options that provide the taste and experience of traditional beer without the alcohol content. You can even create non-alcoholic beer cocktails for added creativity.
Conclusion
Your wedding bar plays a significant role in creating a memorable reception experience for you and your guests. By incorporating these trendy wedding bar ideas, you can ensure that your bar becomes a focal point of enjoyment, where guests can indulge in delicious and refreshing beverages that reflect your unique style and taste.