Wedding Festivals Fall 2021 Charleston Event- Here Are The Details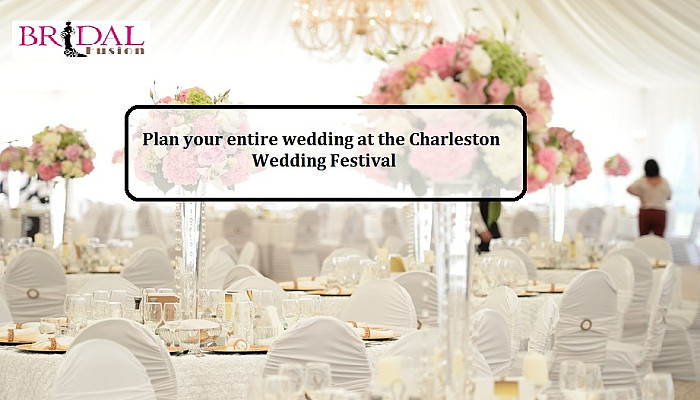 With Covid-19 guidelines easing up, lowering cases, and vaccinations going stronger daily, it is time to get into a new phase of your life. It is time to plan the wedding of your dreams!
Time to finally go ahead and try out a thousand different wedding bridal gowns and veils or tiaras, and book those wedding vendors you had your eyes on for so long. It's time to jump right into the world of newlywed couples.
The Wedding Festival Fall 2021 Charleston edition is here to help you plan everything for your wedding day. Your dream day is as essential to the organizers and vendors at the event as it is to you!
At the event, you can find the best wedding planners, wedding supplies, wedding decor, wedding bridal gowns, bridesmaid dresses, makeup artists, wedding cakes, honeymoon guides, wedding stationery, and other latest wedding tips, tricks, ideas, and trends.
About The Show
When:
Sunday, September 26th, 2021
Time:
1 PM - 4 PM
Where
Charleston Area Convention Center
500 Coliseum Drive
N. Charleston, SC 29418
Tickets:
You can purchase your tickets to the Wedding Festivals Fall 2021 Charleston event at just $10 at the venue door. You can also purchase your tickets online for just $8.
The ticket prices include the giveaways, which are, of course, subject to change.
Customized VIP Bridal Package:
It is curated carefully for our 100 lucky brides per show. The tickets for the VIB passes will cost you $45, with a total value of over $600.
Inclusive in the ticket price are:
1. 5 ticket passes for the bride and 4 other guests.
2. A large Canvas VIB tote bag
3. Bride and Groom T-shirts
4. VIB Bridal sash
5. 3 bridesmaid sashes
6. Access to the VIB-only lounge
7. Express check-in
8. A 30-minute head start to the show floor.
9. A bridal makeup kit with a bag
10. Free entry to the "Wear Your Wedding Dress" party coming up in March, valid only for brides with a VIB bag for the bridal party.
11. Extra bridal incentives and giveaways
Wedding Festivals Fall 2021 Charleston Attractions
Bridal Giveaways
The first 600 soon-to-be brides walking in through the doors can register for the grand prize at the Wedding Festivals Fall 2021 Charleston edition. Of all the newly engaged women, 600 lucky brides will get an opportunity to win a pair of Swarovski Crystal Earrings and so many other exciting prizes.
The first 600 general admission brides to the event will also get an opportunity to own a free Bridal Bag and a free Bridal Sash.
Free Gift Card
Every single bride purchasing tickets in advance will get a gift card worth $200 from Symbolizeit.com. In fact, brides who enter the event doors will also get a gift card for getting two free wedding bands by ZB Jewelers.
Everything Under One Roof
The event venue will be buzzing with some of the largest wedding vendors from across the country, who are grand, well-respected, and highly professional.
Platinum Mock Wedding And Reception Display
Experience the one-of-a-kind platinum mock wedding and reception display to get a fair idea of how to plan your wedding decor.
Runway Fashion Show
Grab the latest bridal fashion attire at the runway wedding fashion show for the upcoming year.
Wedding Workshop
Held throughout the day, brides and grooms can rejoice with wedding workshops featuring expert advice from the very best wedding planners and professionals.
Latest Wedding Trends and Ideas
Get to witness some of the latest Insta-worthy wedding ideas, trends, and tips that you can save for your wedding in show discounts and show-specials, curated only for the best day of your life.
Social Distancing Measures
There are few Covid-19 guidelines you need to follow before being a part of the Wedding Festivals Fall 2021 Charleston event.
1. Social Distancing measures will be in place to avoid the spread of Covid-19.
2. Face masks are encouraged in the venue. Please bring a mask along with you to the venue.
3. The exhibitors' display booths will be more spread out this time at the Wedding Festivals Fall 2021 Charleston event owing to the Covid-19 guidelines.
4. The Runway Fashion Show will be a 100' inches runway down the center of the venue to ensure social distancing protocols can be followed.
5. Food samples will be available to consume in sample containers
6. Online ticket purchases are encouraged to avoid large crowds at the entrance gate.
List of Exhibitors
The Wedding Festival Fall 2021 Charleston event is going to be home to dozens of wedding vendors in the following categories:
1. Alterations
2. Bachelorette / Bachelor Party
3. Bartending
4. Beauty
5. Bridal Gowns
6. Bridal Registry
7. Bridal Showers
8. Caricature Entertainment
9. Catering
10. Ceremony Music
11. Ceremony Sites
12. Chiropractic
13. Chocolate Fountains
14. Dance Lessons
15. Dental
16. Destination Weddings
17. Disc Jockeys
18. Event Design
19. Favors
20. Fireworks Display
21. Florists
22. Gifts For The Bridal Party
23. Guest Accommodations
24. Health & Fitness
25. Honeymoon Travel
26. Hotels
27. Invitations
28. Jewelry
29. Karaoke
30. Lighting
31. Limousines, Trolleys & Carriages
32. Make-Up
33. Master of Ceremony
34. Mobile Cigar Lounge
35. Officiant/ Minister/ Notary
36. Party Rental
37. Photo Booth Rentals
38. Photo/Video Montage
39. Wedding Photographers
40. Reception Locations
41. Reception Music
42. Rehearsal Dinner
43. Skin Care
44. Table Top Designs
45. Tuxedos
46. Unique Products & Services
47. Valet Service
48. Videographers
49. Wedding Cakes
50. Wedding Consultants / Coordinators
51. Wedding Gifts
52. Wedding Insurance
Final Words:
Get in touch with your Bridal Party, plan a trip down the Wedding Festivals Fall 2021 Charleston event. You will make memories that will be cherished for so many years to come. Start your wedding planning early, in the right place! You will love everything here.