SUMMER WEDDING IDEAS TO BEAT THE HEAT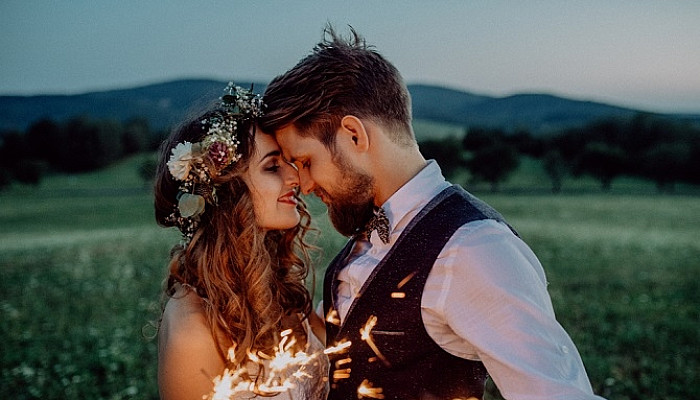 Summer weddings give the couple-to-be plethora of possibilities to cuddle the sun-soaked division of the year on their The day. There are many features of the summer season to love and embrace and there are endless details to incorporate the seasonal details in into the wedding. Summer weddings call for unique details that are seasonal and uncommon for the other seasons.
SUMMER WEDDING IDEAS
Beautiful hot sunny months are the perfect time to tie the knot, You have got the number of options for styling your wedding. For the inspiration, here are summer wedding ideas that you'll want to steal and make your big day worth a million.
SUMMER WEDDING THEMES
Summer season is always associated with festivity and colors. Beach weddings are the most common in the summer season. Another unusual summer wedding theme is English summer theme, include all the elements of English summer on your wedding day this will work wonderfully well whatever may be the venue. Organic greenery theme is yet another theme idea which goes a long way and is affordable at the same time. You can also go for all sparkle theme which is elegant, exciting and feels fancy. Geometrics and florals are a rising trend, and chic if you are looking for casual and fun themed weddings. Some upcoming wedding summer themes are- woodland fairy tale theme, Beauty, and the beast theme, moody romance theme, romantic evening theme.
SUMMER WEDDING BRIDAL BOUQUETS
Hot summer days bring about some of the prettiest blooms around. Summers are associated with bright happy hues. It's the season of lushness, so do not be afraid of mixing lots of greenery along with flowers in your bridal bouquets. The season gives the chance to choose flowers from the versatile color palette. Some flowers of the season are garden hydrangea, gerbera, daisy, gypsophila, sunflower, peony. A simple and an elegant sunflower bridal bouquet makes a bold statement.
SUMMER WEDDING CAKE
A gateau for a sunlit wedding will often reflect the season. You can garnish the cake with strawberries and cherries. Fresh blooms cascading down the wedding cake tiers is another design for summer weddings. Fruits cakes are perfect for summer weddings. Some delectable flavors of the coming summer wedding season are apple, orange, strawberry, and raspberry. To jazz up the traditional white cake fill it with lemon meringue filling or orange marmalade.
SUMMER WEDDING GROOM BOUTONNIERE
Summer wedding lapel pins do not need to match. Simple classic rose bouts are always in trend in summer weddings, it pairs well with any groom attire and bridal bouquet. Succulents create a handsome design in summer weddings if you are searching for something non-seasonal yet trendy. Button mums are a great fit for the rustic affair. Herbal bouts with mild scent are also getting popular these days. Wrap the usual bouts with colorful ribbons and embellishments to make the bout stand out against the lapel. Celebrate the lush beauty of the season with berries in the boutonnieres.
SUMMER WEDDING CENTREPIECES
Summer weddings centerpieces choice speaks the volume of the season. White roses are always a traditional and a classic choice for summer wedding centerpieces. Wildflowers in the summer wedding centerpieces will be a lovely surprise for your friends and family. Sunflowers screams summer, the yellow beauty along with Burlap really makes a statement. Replace your floral centerpieces with lanterns, lights, candles, to give an elegant look to the table top. From hydrangea to peonies summer season is full of unique blooms, add foliage to these unique blooms to give your centerpiece a lusher look. Substitute the old vases for wooden boxes to give a rustic look to the centerpiece.