WAYS TO CUT DOWN WEDDING CATERING COST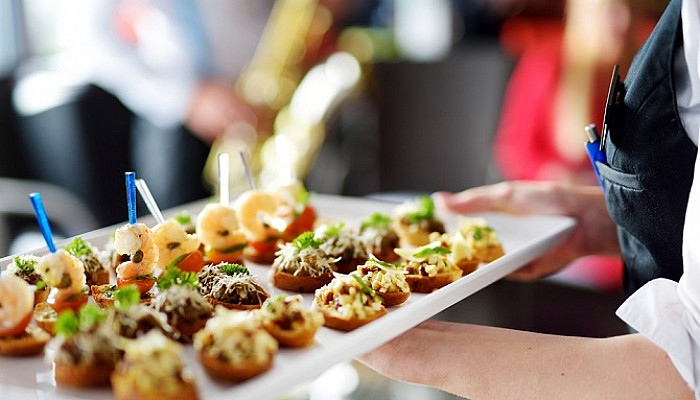 The most expensive part of the wedding budget is wedding catering. Every wedding duo wants their marriage to be super stylish in terms of food and decoration. You do not have to spend numbers on catering to make it sound beautiful and big. Catering budget eats a roughly of 40 percent of the total wedding budget.
Here are some tips to cut down wedding catering cost:
SET A BUDGET
Figuring out your catering budget is not easy at all. Set a realistic budget for food and beverage. Setting a budget requires time a comparison between several options. Set a budget and ask your caterer to work accordingly. It's you who have to decide What to spend? & How to spend?. The cost of catering budget is pretty much based on wedding guest count. The number of guests will assist you to determine the quantity of food and beverage you have to serve.
HAND PASS THE APPETIZERS
You can bank handful of money by hand passing pricier appetizers during the cocktail hours. Hand passing the appetizers are a cost-effective approach. Most of the time guests waste appetizers if they serve themselves. Ask the catering staff to hand pass the appetizer to the wedding guests rather than setting the appetizers out for the wedding guests to serve themselves. In this way, they will consume the right quantity of appetizers which their gut allows rather than wasting them. Pricer appetizers like seafood can be hand passed. Stick strictly to hors-d'oeuvres is your call.
BUFFETSYSTEM
Sit-down dinners are way too expensive. Caters charge exorbitant rates for plated dinners because a sit-down meal requires more servers due to plating the meal and serving it. Go for a buffet style in the wedding reception, this way you will be saving tons of money. Buffet system is a cost-effective way to provide guests with the variety of choices. It has fewer chances of wastage of food as the guests get to choose what they want rather than giving them a preset menu. The serving staff charges will be less as you will not require too many servers to serve.
DISPOSABLE TABLEWARE
Disposable tableware is the next big trend this wedding season. Quirky disposable tableware is making upturn. Renting fine plates, glasses, flatware and other tableware gets super extortionate. Ask your caterer to substitute designer paper plates and other paper tableware for expensive glass tableware. Appetizers and cake slices can be served in this beautiful paperware. The range of disposable tableware is nearly endless, so you can choose the one that comes within your budget.
SEASONAL FOOD
Every wedding duo wants to impress their friends and family will the lavish food menu. Serving high-brow unseasonal eats may not be the best move especially when your pocket does not allow you to do so. Go for budget-friendly seasonal bites that will bring your wedding theme to life. Ask your caterer to provide you with seasonal food item list with their price mentioned and then you select the items which you think will fit in your assigned budget. Seasonal food costs a fraction of price.
LIMIT BAR MENU
Do not add a large number of alcoholic beverages on your bar menu. Go for beer and wine so you will not have to pay a large number on the bill of fare. This will give your guests two good options to choose from and your bar bill will be limited. Go for non-alcoholic beverages instead of liquor such as smoothies, mocktails, etc. None of your guests will care about having an alcoholic beverage after having a fresh non-alcoholic drink consisting of a mixture of fruit juices. Non-alcoholic beverages are way cheaper than alcoholic beverages.
CAKE
Ask your caterer for making a small cake for display & cutting and a sheet cake for serving. You can also go for one-tier cake and cupcakes for the same. Go for simple cakes rather highly detailed cakes, this will cost you less in terms of labor hours. Do not go all out for buying those expensive display cake stands rather go for decorated base board provided by the caterer. Plan a cake size for the exact number of planned attending guests and one piece for each.
Be flexible with your approach, The tapered your requirements for elements of your celebrations, inflexible it will be to fulfill them on a small dollar.