The Three Ps of Wedding Invitations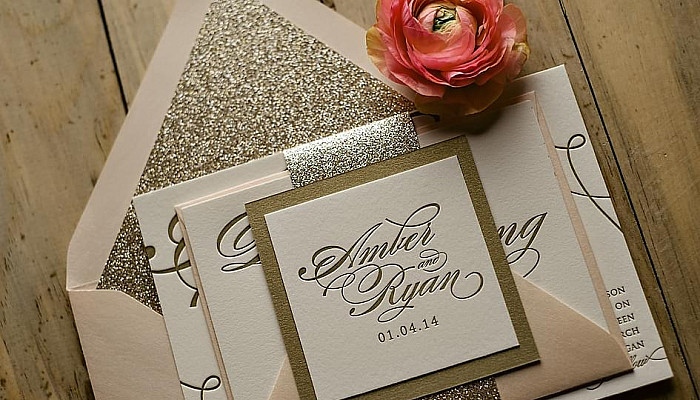 Begin planning the wedding
Selecting your wedding invitations can be one of the most rewarding yet frustrating experiences you can have during the entire wedding planning process. The sheer amount of the selections from hundreds of stationers can be overwhelming. Before starting your search, here are aspects of the invitation selection process to take into consideration. The "P's" of wedding invitations will enable you to find your perfect wedding invitation while relieving you of the stress of your search.
Wedding invitation - preparation
The site, setting and theme of your wedding can have an huge impact on the type of wedding invitations you choose. For instance, if you were planning to be married at a beach, you may want to select wedding invitations with a seascape or coastal motif, or maybe a tropically-themed invitation motif for a Hawaiian wedding. Knowing these facts ahead of time will enable you to isolate the style of wedding invitations that you prefer. Most importantly, it allows you to skip looking through countless invitation styles that are inappropriate to the setting.
The type of wedding you're planning will also reflect the style of your wedding invitations. While an intimate evening wedding on your family's farm may call for simple wedding invitations, a large formal wedding may require a traditional engraved wedding invitations with customized details. Take a moment to think what type of wedding you'll be hosting.
Afternoon or evening wedding
Formal or casual wedding
Traditional or non-traditional wedding
Local or to a travel destination wedding
Small or large wedding
Wedding invitation - personalization
Wedding invitations should be a reflection of your style and identity. While the aspects (the setting, colors and type of wedding you are hosting) will help narrow your search of wedding invitations to several dozen possibilities, it will be your style that helps you identify the top selections. There are a number of options available when it comes to personalizing your wedding invitations.
Do-it-yourself - This is becoming popular for many brides. Many stationery stores offer do it yourself wedding invitation kits where you can buy all the materials and assemble the wedding invitations yourself. On the other hand, the store will provide you with instructions for creating a specific invitation and then you can decide on the materials you want to use to create them. But, if you're computer skills are not the best and you have little time, you may want to consider ordering your wedding invitations from a stationer.
Customize your order - Stationers provide several printing options for selecting styles of wedding invitations. For example, based on the theme and setting of your wedding, you could choose ribbons of a certain color, a specialized font and engraved printing for your invitations. These types of customizations are easy to visualize and order. However, you are usually limited to color and font alternatives determined by the manufacturer of the wedding invitations.
Pay for a designer - For a higher level of personalization, you can turn to a professional invitation designer. Using a designer allows you to personalize all aspects of your wedding invitations. Not only can you pick out colors and fonts, but you can ask to utilize fine papers and distinctive accompaniments or add photos that are special to you. If you're planning a destination wedding in the Bahamas, request the use of palm trees, tropical colors and possibly a poem that has special significance to you and your fiancé. The benefit of using a professional designer will save your a lot of time and aggravation instead of having to do it yourself or scanning through endless books of wedding invitations at your stationer.
Wedding invitation - perfection
Your wedding invitations set the mood for your wedding so it's important to find a design that reflects the setting and your personal style. Wedding invitations also help set the direction for the rest of your wedding correspondence including programs, placement cards, menus and thank you notes. That is why it's important to work with a vendor that can provide:
Ability to accommodate last minute requests to modify your wedding invitations design to your personal style
Ability to make changes to phrasing, font, envelope color, etc.
Advice to you - such as proper wording
Ability to deliver your wedding invitations on time, even if it's a rush job, free from errors
Working with a professional that can provide a level of quality, flexibility, guarantee their product, and offer personalization services, will allow you to succeed at finding the perfect wedding invitations.