QUIRKY & VERSATILE WEDDING SAVE-THE-DATE IDEAS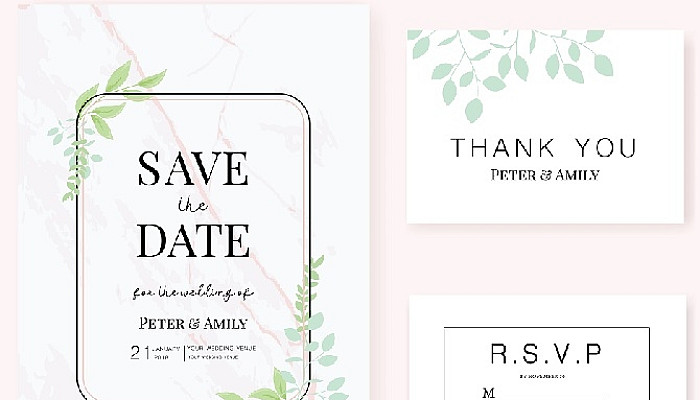 Save-the-date is the introduction of your wedding to your guests. They function as a way to let people know you're tying the knot. It's very important that all your family and friends are able to attend your The-Day and celebrate your togetherness and happiness with you, so before you send out your wedding invites to all your family and friends, make sure you send them save-the-date months prior so that everyone knows your wedding date to mark on their calendars.
Inform all your family and friends of your upcoming nuptials in the most stylish way possible with our quirky and versatile wedding save-the-date ideas.
SAVE THE DATE CALENDAR CARD
If you're planning a formal affair, these rustic save-the-date calendar cards offer the perfect balance of tightening up details and modern styling. A tactile brown paper texture teamed with a formal script typeface bring a formal edge to the photographic style. If the brown paper isn't your style you can opt for wood, chalkboard or a more glamorous gold metallic to give an informal touch to your save-the-date calendar card.
SAVE THE DATE MINI-WINE BOTTLES
Save-the-date mini-wine bottle is a timeless style along with wooden boxes, calligraphic designs, and luxurious metallic finish. It suits almost every type of wedding theme and adds opulence to any invite design. Save-the-date mini wine bottles are more glamorous and edgy take on the style. These mini bottles are splendor and impressive, especially of appearance.
SAVE THE DATE WOODEN PENCIL STATIONERY
Save-the-date wooden pencil stationery is a great pocket-friendly option, with no envelope required. These natural wooden pencils save-the-dates are a quirky alternative to everyday save-the-dates. Get your guests to 'pencil you in'. You can get wording, font style, and color customized for all your needs and to suit your style. These pencil save-the-dates are perfect for a rustic themed wedding.
SAVE THE DATE METALLIC PUZZLE KEYCHAIN
Save-the-date metallic puzzle keychains are the perfect way to commemorate a special day. These cool and functional save-the-date metallic puzzle key chains are so much more versatile than a paper card save-the-date. When added to the keys of your invited guests they won't soon forget to keep the date open on their calendars.
SAVE THE DATE STRAWBERRY CUPCAKES
Surprise your wedding guests with these edible toothsome save-the-date strawberry cupcakes. These save-the-date strawberry cupcakes are intricate, stylish and novelty idea to suit all tastes and styles. They're a light-hearted and a fun way to announce your wedding date to your family & friends and all your other guests. These whimsical mouth watering save-the-date mini cakes will wow all your wedding guests.
SAVE THE DATE COUPLE SHOES
Save-the-date couple shoes can feel very special and romantic. The unusual couple shoe color pairing can be softened further with handwritten dates. Save-the-date couple shoe can be adapted to suit almost any kind of wedding ceremony. Poppy shoe colors, graphics and font style make these save-the-date couple shoes different and interesting to send them to the wedding guests. They have the added advantage of stepping into the more gender-neutral territory.
SAVE THE DATE LEATHER LUGGAGE TAGS
Save-the-date leather Luggage Tag is ideal for a destination wedding, they are a fun and unique way to invite guests to your wedding. You can fully customize them with your choices of graphics, colors, fonts, pictures, etc. with unlimited revisions. These destination wedding announcement cards are lovely, affordable, and will get everyone excited about your upcoming wedding!
SAVE THE DATE WATCHES
If your wedding is going to have a vintage theme, or even be taking place in somewhere with a special historic feel, a save-the-date watch is a perfect choice for your save-the-date. These save-the-date watches are a continuous reminder of your wedding to all your wedding guests. Save-the-date watches will also have the aid of looking timeless in style.
SAVE THE DATE PAPER ORIGAMI
Simple, striking save-the-date paper origami doesn't need photos or illustrations to complement it. At times, simplicity is the best and a paper origami save-the-date can have as much impact as any other decked up save-the-date card. If you're opting for a save-the-date paper origami make sure to play with the apt proportion of paper. The bonus is that your guests will be hard-pressed to forget the date.
SAVE THE DATE SUPERMAN COMIC STRIP
Cute save-the-date superman comic strips are a great way out for budget-friendly save-the-date cards, and they also have a vim element attached to them. It couldn't be simpler than printing these off. Superman will also have the benefit of looking timeless in comic style. It's a great choice if you want to add a fun edge in your save-the-date.
Go ahead, pick your save-the-date and take the chance to make it feel completely personal and special to you and your partner.