5 Hottest Wedding Invitation Trends for 2018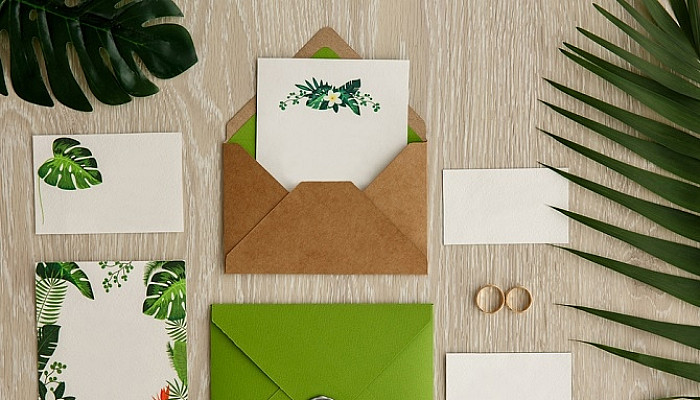 As wedding is the most essential part of a couple's life so it's planning of decoration, the taste of food and most significantly the invitations which add more charm and beauty to a wedding. A wedding is lackluster without a perfect invitation. Every couple wants an ideal invitation for their wedding which somewhere matches their story of romance and reflects their journey of love. Most couple's get baffled over selecting their marriage ceremony invitation. So all the pretty and ready to get married couple's sit a back and get yourself comfortable munch or something while you read through some fantastic and ritualistic yet present-day wedding invitation trends 2018.
WATERCOLOR TREND
What's more welcoming than a soft and beautiful splash of colors on a wedding invitation, colors are the best way to express your journey of togetherness as it comes in all seasonal shades. It is worth pursuing on your special day as the style includes all the wintry, springtime, summer and autumn feels. For such ritualistic event, watercolor invitations can add more romantic feels to your wedding day and will bring a big smile to the guests face. These stylish and gorgeous wedding invitations can be cast into any form you like with the help of such transparent shades of hue. The most popular types of watercolor invitations are those with abstract designs and it broadcast all types of the wedding from modern to vintage. So, watercolor wedding invitation trend 2018 will definitely add more charm to your day.
ACRYLIC COLOUR TREND
The acrylic color trend, yes you can see through it clearly, it is the perfect invitation for a traditionally styled and a modern wedding. It is so different, unique and yet a perfect conversational card for a wedding. You can customize it in whichever way you like. Acrylic invitation cards give a charming feel to a formal wedding with its smooth finish and perfect quality. Therefore, an acrylic invitation trend 2018 would be an icing on the cake.
GOLD FOIL INVITATION CARDS
Another most beautiful creation is gold foil wedding invitations as it something that makes you think of gold, wealth and royalty. Gold foil invitations never go out of trend and so does in 2018 it gives the luxurious feel to the wedding ceremony. Gold foil is not only stuck to the color of gold but also have additional variables such as copper, silver, white, red, green and blues. Furthermore, there are wonderful finishes like matte or holographic. There are various kinds of modern gold foil wedding invites such as- Gilded Shore, Charming love, Painted canvas, Watercolor delights and many more which will give a subtle and soothing life to the marriage ceremony. Gold foil is something a wedding couple should always try as it is evergreen and will continue to be an invitation trend not only in 2018 but furthermore as well.
MINIMALIST DESIGNS
A wedding is a day where there are fewer words to express and more abstract emotions of joy bursts into a person's heart. So, here it is a formal and an elegant invitation which minimalist the words but expresses the happiness and love to the fullest. Minimalist designs are little clean patterns which are so sophisticated, trendy and fun depending upon what art form you use whether it's a swirl, a vine, a wreath or a line. As we say a little touch or a little move and create a big impact the same way minimalist designs can spread jollification in the whole room of people with fewer words. Therefore, a couple should definitely try minimalist designs invitation trend 2018 as fewer words and more emotions have more cherishing impact on the recipients.
CALLIGRAPHY
Yet another wedding invitation trend 2018, we all know that in earlier days or should I say since Romeo and Juliet era calligraphic words have been adding more romance to their letters, here we go again calligraphy is a swirling typography and it has been a hugely popular choice for wedding invitations as it gives romantic feels to the weddings. It can be handwritten as well as adding up beauty and effectiveness to the names and dates rather than using swirly alphabets to the whole invite.
So, all the beautiful ready to get married couples style your wedding invitations the way you like whether through calligraphic romance, vintage and modern shades of tincture, through minimal words, a touch of royalty or with the smooth finish it is your call, you choose anything it will unquestionably express your joy.