EXTRAORDINARY FALL WEDDING FLOWER TRENDS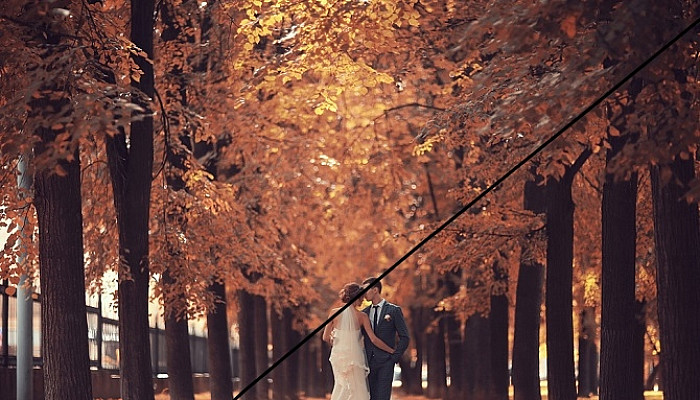 Fall division of the year is the most popular season to get hitched. Highlight the natural beauty of the season by filling your big day with extraordinary fall wedding flowers.It is not just ideal for an al fresco celebration, weather-wise, but it also offers the most extraordinary natural backdrop for photography. Autumn is the wonderful time for some of the most captivating and charming flowers. Fall floral arrangements are overwhelming. There are plenty of extraordinary gorgeous looking seasonal flowers to choose from in September, October, and November, for a fall season wedding. There is a shift from soft tones to vibrant shades spectrum of the VIBGYOR. Therefore, there is no better time than fall to take wedding ornamentation inspiration from mother nature's magnanimity. Fall time brings deeper, darker, and opulent shades of golds, oranges, burgundy and rust, a little contrast to its seasonal peers will allow these fall colors to take the seasonal spotlight. Make your day the happiest one and enjoy with us these extraordinary fall wedding flowers.
DELPHINIUM
Delphinium symbolizes truth and protection. There are an astonishing 450 ( approximately ) different varieties to be had in an unbelievable range of blues, as well as other hues. This romantic and beautiful cousin of ranunculus has magnificent spikes which add an opulent touch to your wedding. The blossom spikes tower over everything enthusiastically. Delphinium always offers a shade of blue to flatter you and make your wedding decoration look sumptuous & luxurious.
STEPHANOTIS/ MADAGASCARJASMINE
Stephanotis symbolizes marital harmony. This star-shaped, pleasant scented flower is an obvious choice for fall weddings. Stephanotis contributes as a filler flower in floral ornamentation. These small white flowers, scented heavily looks best in bridal bouquets, chaplets, and bridal veils. These waxy white flowers add tranquility to the wedding ambiance.
BLACK BEAUTY ROSE
Black beauty rose symbolizes passion and ardor. This black beauty is the most popular flower for the fall wedding. The luster of deep red-black velvety petals of this flower is resplendent and splendiferous. This black beauty is bijou in size and its serene scent, makes it ideal for the fall season wedding. When placed under dim lights the flower appears extremely beautiful, elaborate, and impressive. Black beauty rose can make any floral ornamentation look magically magnetic. Its deep burgundy shade adds a touch of opulence to your wedding.
MARIGOLD
Marigold symbolizes creativity and passion. Marigold is a mysteriously attractive and lively flower. The charm and versatility of this orange beauty make it a well-liked choice for fall wedding ornamentation. Marigold flowers come in a range of colors making them look ornamental. The mellow beauty of this charismatic flower can bring about a soulful quality to fall weddings.
BOUVARDIA
Bouvardia symbolizes enthusiasm. These marvelous square florets that open into clusters of flowers look extremely beautiful & exquisite in bouquets. The faint scent of Bouvardia is an excellent way to up the aroma of larger flowers that don't have much fragrance. Bouvardia can add bulk to a wedding decoration.
DAHLIA
Dahlia symbolizes commitment and bond that lasts forever. October is peak Dahlia month, which makes dahlia perfect for fall weddings. This symmetrical flower lasts a marked effect when used in wedding ornamentation & centerpieces and can be far less exorbitant. With dozens of beautiful varieties, there's no dearth of options to pick from in order to find a look you love for the day. Dhalia's unique appearance looks very graceful in bridal bouquets. It is no surprise that the fall flower stands out from all the other flowers with its charm and distinctive look.
CALLALILIES
Calla lilies symbolize holiness, faith, and purity. Calla lilies are easiest to source in September and vary in color, making them a perfect flower for fall weddings. The burnt orange color of calla lily is extraordinary and perfectly suited to a fall wedding. The burnt beauty is a clean, simple and elegant flower and won't wilt out of the water.
MARSALA
Marsala symbolizes wealth & prosperity. With a gorgeous and lush & lavish off-red tone, marsala is like a fine wine for fall weddings. Marsala is a refined and sophisticated red colored flower that brings a vibrant style to your wedding. It adds a striking and exciting look in boutonnière when paired gray and silver filler peers.
PANSY
Pansies symbolize togetherness and union. This hybrid violet beauty with its dramatic archetype looks majestic and magnificent in the photography backdrops. Pansies make a lovely accessory with simple style bridal dresses. These velvety violets create a picture of poise. The viola -tricolor adds grace, delicacy, and tenderness in the wedding.
So much beauty to choose from! These fall season flowers will surely make your wedding much more beautiful! Create a firework display of hues with your fall wedding flowers!