Wedding Flower Trends Forecast 2018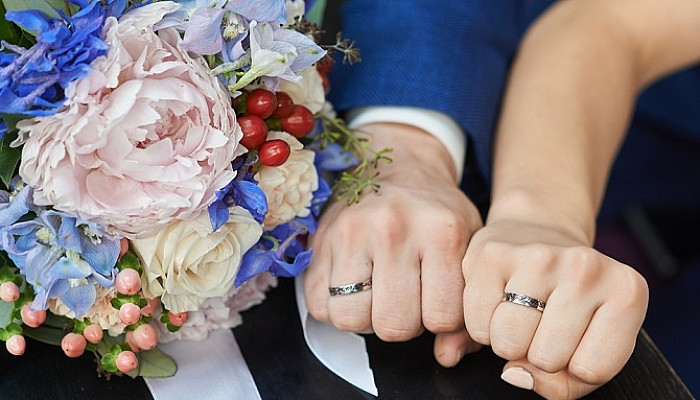 Back in the Victorian times, the tradition of carrying a bouquet of flowers started for a couple of reasons. Folklore says, wedding flowers save the bride from evil spirits and help her prevent body odor throughout the day. But, nowadays the purpose of carrying the wedding flowers has shifted more towards fashion and less towards its deep-rooted meanings. No matter what kind of personality the bride has - a bold and vibrant like those of fashionista or beautiful and elegant - every bride wants to carry a bouquet that helps her make a statement. The modern bride does not want to break the year's long tradition but wishes to modify it as per the latest wedding flower trends.
If you are one of them, be with us in this article and learn about wedding flower trends forecast 2018. Get to know what's trending in wedding flowers and what would go best as per your style and wedding theme.
Ultra Violet Wedding Flowers
If you are looking for a majestic and grand wedding, go for these regal ultraviolet wedding flowers. They can add a bit of glam and a hint of opulence to your wedding ceremony. Their regal look and feel cannot be ignored and hence, counted among the top trending wedding flowers of 2017 and would intend to be at the same position in 2018 as well. The only con of using these vibrant and classy wedding flower is their cost. You need to spend pretty much on their maintenance, decor, and installation. This is because of their vibrant hue and high demand.
Copper Shade Wedding Flowers
The next trending wedding flower that can become the sensation of 2018 weddings is the elegant copper shade. The warmth and luxe feel they reflect is enough to take the opulence to the next level. Besides Copper, other popular shades of metallic wedding flowers are bronze and rustic gold tones. Combine them with crisp white and you are good to go with the stylish look.
Multicolored Flower Walls
Gone are the days when flowers used to uplift the aura of centerpieces and bridal accessories. Nowadays, florists and wedding planners are coming with really cool and creative flower decoration ideas and one of them is the floral living wall. On the wedding day, there are many places that deserve to be highlighted. The table for wedding gifts, cake cutting, and centerpieces are some of the places wherein you can incorporate quirky wedding flower decorations. But above all, you need flowers as a background for those precious and memorable wedding photographs. To cater this need, florists have come up with floral living walls. Such walls are created in a long wooden board decorated with multicolored wedding flowers. These floral walls are high in demand and would remain on the top of wedding flowers 2018 trend wishlist.
Wreaths & Hoops
A circle can take any shape and form and that's why florists have chosen wreaths and hoops to come up with some quirky wedding flower masterpieces. In 2017, a number of couples have been seen using giant wreaths and hoops in their wedding. We have seen pictures of brides and bridesmaids carrying floral hoops instead of flower bouquet, which is a total statement-maker. The best part about this latest wedding flowers trend is that they are highly customized. You can personalize its decor, shape, and size. Getting it designed as a giant ring of flowers for backdrops or using its minimal form to carry as a wedding accessory is entirely up to you.
Single Tone Color Wedding Flowers
As per the latest floral trends, single color flower bouquets are back in the form. The reason being the high intensity and vibrant hue that comes out of the same color ideology. The popular colors that are on trend under this category are; a sea of blue, bunch of pure white orchids, an array of ultraviolet tones, and dazzling pink.
The Takeaway
Wedding flowers do much more than just decorating the wedding venue. A well-chosen wedding flower bouquet can add more charm to the entire aura set by the planner. But, if the array of wedding flowers of different shades and tones appear confusing to you, let us help. Get some ideas from the latest wedding trends forecasts for 2018 weddings and chose the one that suits your style and matches well to evolving floral trends.
Hope this works for you.