Wedding Flowers Checklist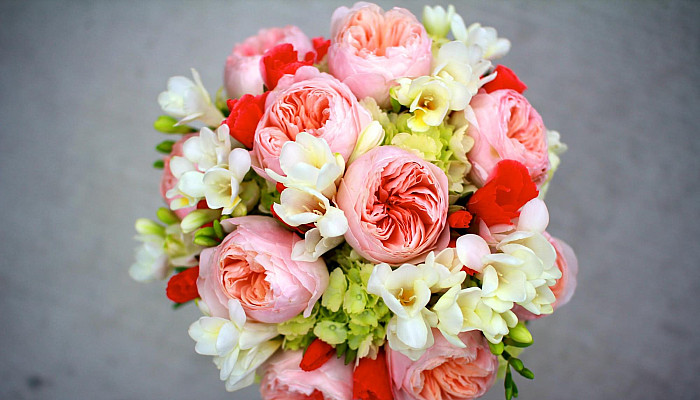 The florists, wedding flowers and you
In modern times, people have sought ways to cultivate, buy, wear, or otherwise be around flowers and blooming plants, partly because of their agreeable appearance and smell. Around the world, people use flowers for a wide range of events and functions that, cumulatively, encompass one's lifetime:
For new births or Christenings
As a corsage or boutonniere to be worn
As tokens of love or esteem
For wedding flowers for the bridal party, and decorations for the hall
As brightening decorations within the home
As a gift of remembrance of an event and "thinking of you" gifts
For funeral flowers and expressions of sympathy for the grieving
Weddings are and should be represented by flowers that are pleasing to not just the bride and groom but to all present to celebrate their marriage and the beginning of their lives together. Choosing the right wedding flowers and florist to provide this joyful and sweet scented ambiance is a necessity.
Typically, a florist will organize flowers by season and holiday. Flowers have various different meanings in different cultures. The holidays and events for which flowers are used vary. Poppies are used to remember fallen soldiers only in Great Britain and the Commonwealth countries. The cultural meaning of colors also strongly affects the choice and use of flowers. People often prefer flowers that are associated with their ethnic group or country, and various colors may have special meanings of luck or death or love or other basic human traits. A flower such as a red rose might to some mean love, but to others it might be considered indecent or simply puzzling. The vastly divergent views on the color white can lead to major flower issues. White is viewed as standing for death in many Asian cultures but is considered a symbol of purity and innocence in many European and American cultures. Such differences can lead to difficult issues when a bouquet of white lilies, for example, is delivered.
Generally, a florist's shop will contain a large array of flowers, sometimes displayed on the street, or will have a large plate glass window to display the flowers. To keep them fresh, the flowers will be inside of a refrigerator and kept in water, generally in glass or plastic vases or other containers. Most shops have a fridge near the front of the store with large glass doors so that customers can easily view the contents. Some shops also have another refrigerator out of the customers' view where they keep extra stock and arrangements for customers' orders. Most florist shops have a back section in which the designers can work on orders with more privacy.
The World Wide Web has had a significant impact on traditional florists, with the North American market experiencing a more than 20% decline in traditional, independently owned flower shops since 1998. Purchases from shops are slowly being overtaken by online flower delivery ordering and floral wire services. However, some independent florists have taken to having their own online store, where customers can order online instead of the telephone, which is most the common means of receiving orders.
Whether you desire a more personal approach to experience actual flower scents or have an emergency necessity to order online or by telephone here is a brief checklist of what types of flowers you will need for your wedding and for whom because wedding bouquets and boutonnieres are not the only wedding flowers for the wedding party to shop for.
Wedding bouquets:
Bride
Maid (Matron) of Honor
Bridesmaids
Flower girls
Bride's toss bouquet (separate bouquet for toss)
Wedding boutonnieres:
Groom
Best Man
Usher
Ring Bearer
Father of Bride
Father of Groom
Wedding ceremony:
Altar
Chuppah
Pews
Main Entrance
Runner
Hair ornaments:
Bride
Maid (Matron) of Honor
Bridesmaids
Flower girls
Junior Bridesmaids
Mothers:
Corsage (lapel or wrist)
Purse decoration flowers
Arm Bouquet
Wedding reception:
Centerpieces
Head table
Staircase railing
Buffet Tables
Cake Table
Wedding Cake Top
Place-card and Guest Book table