Money Saving Tips On Wedding Flowers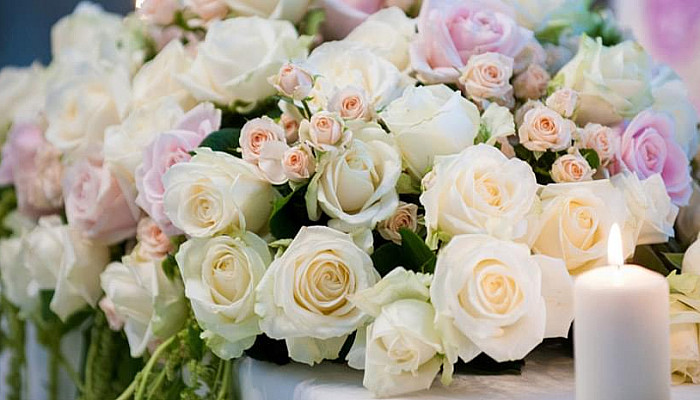 Inexpensive money saving tips
When money is tight and economical trends are on the rise we tend to think of the cost cutting options for the wedding to be. The following are alternatives and money saving tips on wedding flowers to assist you in limiting floral costs:
Share costs with another bride. See if there is another wedding at your church or synagogue on the same day as yours. You might be able to arrange sharing the cost of church floral decorations.
Try to use flowers that are in season. Avoid the exotic, expensive flowers that might have to be imported, or flowers that are not in season.
Utilize greenery -
Using greenery such as trees and garlands of ivy to fill large areas can add richness and depth to the wedding ambiance. Greenery gives a strong impact for relatively little more money.
Plan a garden wedding -
Have the wedding ceremony and/or wedding reception in a beautiful garden, surrounded by natural flowers, or maybe in a neighbors or a family member's backyard.
Don't plan your wedding on or near a holiday and especially not in the month of June just to be a traditional "June bride". Prices escalate dramatically around June and certain holidays like Valentine's Day and Mother's Day. If you decide to plan your wedding around Christmas, however, it might save you money because many reception halls will already be decorated by the property owner for the holiday season.
Limit your wedding attendees. That will limit the number of bouquets of flowers you'll have to buy.
Balloons are an inexpensive way of adding color to a wedding reception site, and they are very effective for a larger room with high ceilings.
Use the same flower arrangements for both the wedding ceremony and wedding reception; this will be easy if they are both in the same location. Flowers that used to line the church aisles or grouped together and placed on or beside the altar can be used as the table arrangements. Wedding bouquets can be used to decorate the cake table and/or guest book table.
Instead of having the bride and bridesmaids carry large wedding bouquets, choose to carry small, graceful ones.