Elegant White Wedding Cakes that Traditionalists will Love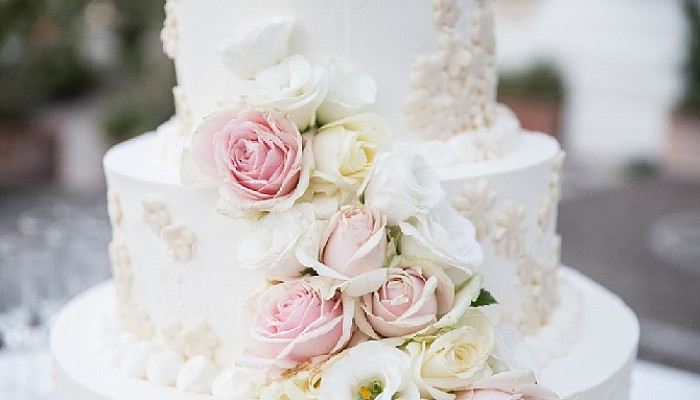 White wedding cakes have their own significance. They have been the most loved wedding cakes since their inception. No matter how modern your parents and grandparents have become if asked to choose between an elegant white wedding cake and non-white wedding cake, they would love to choose the former. This is because of the elegance, beauty, and charm of the simple white wedding cake that traditionalists always love to see.
Hence, if you are bride-to-be who is about to start her hunt for the wedding cake, stay tuned with us in this article. In this article, you will get to know about some of the prettiest and yummiest looking white wedding cakes around the web. The elegance and beauty of these wedding cakes will make you die for these delectable white wedding cake.
Simple & Elegant White Wedding Cake Pictures We've Ever Seen
To help you out, we have compiled a list of simple white wedding cakes that are actually trending. The pictures of white & gold wedding cakes, simple white wedding cake with flowers, and elegant white wedding cakes are shown below. Check them out to add a bit f glam and a hint of traditionalism on your wedding cake.
Elegant White Wedding Cake(two-tiered)
A small two-tiered cake with clean lines and crisp decor is what actually traditionalists couple look for. The more the basic look it reflects, the cleaner and crisper it appears to be. Small fondant flowers topped on to white two-tiered wedding cakes give it a timeless look.
Frosted Rosette White Wedding Cake
Frosted Rosette is a great idea for the minimalists. The reason being the minimal decor, minimal fondant, and minimal layer( limited to only 1 layer). The best part about the frosted rosettes is that they look elegant and classy in spite of minimal work done to them. Top it with long, slender tapered candles and make it stand on a classy brass cake stand to give it a touch of glam.
White on White Contemporary Wedding Cake
Falling into the contemporary wedding cakes, this white on a white icing two-tiered wedding cake is truly a statement maker. Clean lines with wavy white shades give it a classy look which is just unbeatable. Adorn it with fresh fruits or cacti cake topper to complete the look.
Simple White Wedding Cake(three-tier)
Want to add more beauty to your wedding cake. Just add more white layers to it and see the difference. White wedding cakes look even better when topped by one more plain layer and white three tier wedding cakes are a true example of this. Going with all white gives you a lot of cake topping options. You can go with effortless texture, fresh flowers, and even botanical organics.
Single Tier White Wedding Cake with Flowers(pastel confections)
If you are planning an outdoor fall wedding, white wedding cakes with pastel confections would match best with your theme. You can choose the number of tiers as per your choice( based on your guest count) and top it with some elegant pastel flowers to complete the look.
White Wedding Cake with Faux Pearls and Swirls
Want to take the opulence of your wedding to the next level? If yes, go for the regal and the opulent white wedding cakes topped with faux pearls and swirls. The beauty of these wedding cakes lies in the fine white fondant detailing that creates an air of grand opulence. Choose them to add more value to your wedding ceremony.
Square Tier White Wedding Cake with a Bling
If you want to see a modern touch on your wedding cake without hampering its traditional look, go for the square tiered white wedding cake. Square-tiered wedding cakes are very much in trends these days. The best part about these cakes is that they are highly customized. This means you choose any designs and pattern on its top. You can decorate it with floral details with a dash of vineyard chic, top it with fresh fruits to complement the outdoor fall wedding theme or go to implement something out of the box. The perfect example of this is shown in the image given above. Have a look at it.
Takeaway
In today's world, where every couple is drifting towards non-white and non-traditional wedding cakes, you can stand out from the crowd by adhering to traditional white wedding cakes. White wedding cakes not only look elegant but also reflects your love and commitment to traditional sentiments. Through the content of this article, we have tried our level best to show some of the attractive and glamorous sides of white wedding cakes. So, drop your non-white wedding cake thoughts and switch to traditional white wedding cakes.
Hope this works for you.