5 Reasons You Should Start Looking For Wedding Cupcakes Ideas on Pinterest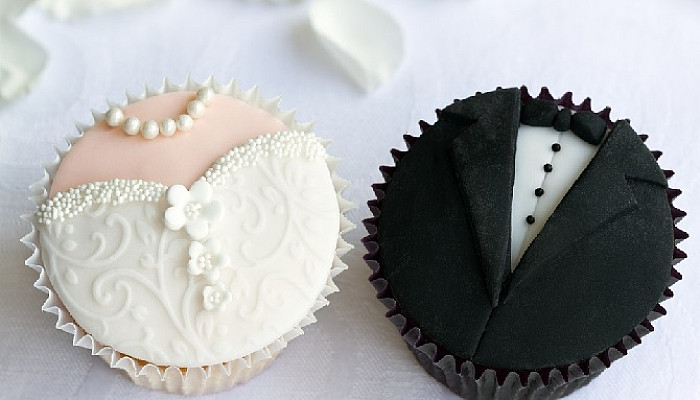 Do you see cupcakes at the top-notch positions of desert trendiness? You may not. It's true that wedding cupcakes are not in trend but they will always be loved if given a chance to stand out. They are adorable, cute, irresistible, portable, and so much fun to eat. They come in gazillion flavors and styles making the bride and the guests fall in love with them.
If you are planning to get married in a month or two but haven't decided what to order for the wedding ceremony - a wedding cake or wedding cupcakes - let us help. Be with us in this article and get to know why you should go for wedding cupcakes only.
1. They are affordable
If you are planning a small budget wedding, choosing a wedding cupcake over the wedding cake can actually help you save a small fortune. They are much affordable than cakes and saves both time & money. Wedding cupcakes are beautiful yet less-labor expensive. Want to have the best wedding cupcakes at minimal cost? If yes, go for the mini cupcakes. They look delicious when combined together in a frame.
2. You can make them on your own
The best part about the wedding cupcakes is that you can make them on your own. Unlike the wedding cake, you need not be a professional for baking your wedding cupcake. Baking a perfect cupcake is not a rocket science. All you need is that to follow proper guidelines for mixing, scooping, and baking. Apart from this, you may need to look for trendy designs and ideas to get a gorgeous wedding cupcake.
3. They are adorable
There is no one on this earth who can resist a delicious and gorgeously awesome wedding cupcakes. If the baker has put on his best on baking, you can simply not resist having them. The beauty of wedding cupcakes lies in the fact that they are adorable and irresistible. The nostalgic and miniature wedding cupcakes are apt to suit any tastes and styles. Hence, go ahead and get some for your big celebration day.
4. Cupcakelicious decoration is actually a fun
There are gazillion ways to decorate the wedding cupcakes. From frosting to filling, and flowers to fondant, you can go as unique as while choosing/baking your wedding cupcakes. However, try not to get too complicated with the decor part. Please bear in mind that wedding cupcakes are not supposed to look like fussy or overly complicated. Those with just a few piping tips, sparkly sprinkles and basic fondant decorations are enough to make a statement that they deserve. It is not too hard to create a beautiful wedding cupcake for the pickiest bride. You can go for White Chocolate Raspberry Champagne Cupcakes, Raspberry Ripple and Basil Cupcakes, Cupcakes with a Whipped Chocolate Buttercream Frosting, or lemon cupcakes with buttercream frosting.
5. They add more value to wedding souvenirs
Wedding favors are a great way to reflect your taste as a newlywed couple. What you gift and how you present it actually shows you think and care about your loved ones who were there in your big celebration day. What if you gift your guests a cute and irresistible wedding cupcake along with the Thank You card? Isn't a great idea? Just give it a thought and you will come down to a conclusion that this is the best wedding souvenir you can give to your wedding guests. You can get single mini cupcakes boxed in a beautiful box with quotes like "I Do" or "Thank You" etc.You can assemble all the mini cupcakes on a table and put a mini flag over it labeling " Take One". Ideas are many and so as the choices. Go for the one that suits you best.
Wrapping Up
Wedding cupcakes may not be in trend but they are way too adorable than wedding cakes. A perfectly baked, decorated, and well-presented wedding cupcake can uplift the aura of your wedding ceremony and probably become the masterpiece of the day. It's all that you need to think out of the box and choose the best one for your wedding day. In this article, we have tried our level best to cover the essential things that you should know about wedding cupcakes. In case, we missed something important, do let us know. Drop it in the comment section and we will revert at the earliest.