Wedding Cake Terminology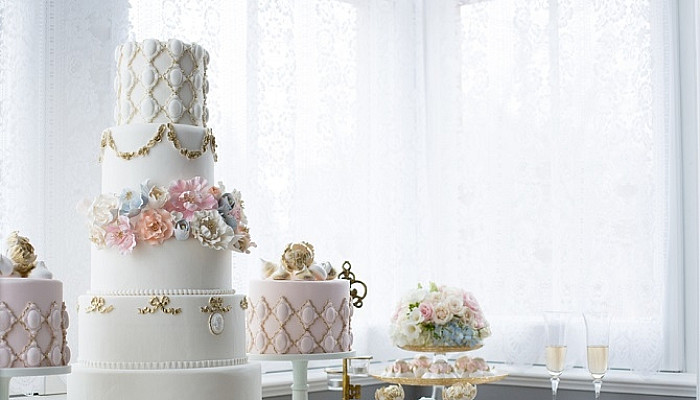 The technique of bakers talk
Bakers have a certain lingo when it comes to wedding cakes. Although their words may sound like sweet nothings until you get familiar with more wedding cake bakery lingo than just "frosting". Bakers are literally piping up when they are describing the wedding cake they can make for your wedding. Here is a list of baker terms to sink your teeth into.
Basketweave
A technique that features piping interwoven vertical and horizontal lines similar to a wicker basket.
Buttercream
A soft, creamy icing that easy to cut through. It can be colored and/or flavored. It is used to create piping, swags, and borders, as well as decorative rosettes. It can also be used as filling. Buttercream is concocted from butter, so it may melt in extreme heat or humidity.
Cornelli
An elaborate lace-like piping technique that yields a pattern.
Dotted swiss
A piping technique that resembles a fine dot swiss fabric.
Dragees
Edible sugar balls coated with silver or gold used for decorative purposes.
Fondant
An elastic icing made of sugar, corn syrup, and gelatin that's literally rolled out like dough with a rolling pin and draped over the wedding cake. A fondant wedding cake should not be refrigerated.
Ganache
A rich chocolate, denser than mousse but less dense than fudge, that can be used as icing or filling. It is a mix of chocolate and heavy cream, and will soften in very humid weather.
Gum paste
A paste of sugar, cornstarch, and gelatin, gum paste is used to mold realistic-looking fruits and flowers to decorate the wedding cake. Gum paste decorations are edible and last for years as keepsakes, but they don't taste as good as marzipan.
Latticework
An open pattern criss-crossed piping detail.
Marzipan
Similar to gum paste, marzipan is a paste made of ground almonds, sugar, and egg whites, used to mold edible flowers or fruit to decorate the wedding cake. Marzipan can also be rolled in sheets, like fondant, and used as icing.
Pillars
The name for the separators used in a tiered wedding cake. They can be made of plastic or wood in various lengths to achieve the desired look.
Piping
Is the process of using a pastry bag and various metal tips to create decorative details. Piping details include leaves, borders, basket-weave patterns, and flowers.
Pulled sugar
Is the technique used to create flowers and bows from pulled boiled sugar.
Royal icing
A mix of egg whites and confectionary sugar, this icing starts out soft and pliable to be used as a soft paste piped from a pastry bag to create latticework, beading, bows, and flowers. When is it dry however, its texture is hard and brittle. Do not refrigerate.
Torte
A dense wedding cake made with out leavening agents like baking powder or baking soda.
Whipped cream
Heavy cream beaten to achieve a thick consistency. Whipped cream is not a good icing and must be kept refrigerated. It is not recommended for outdoor weddings.