The Most Beautiful Wedding Dresses For Brides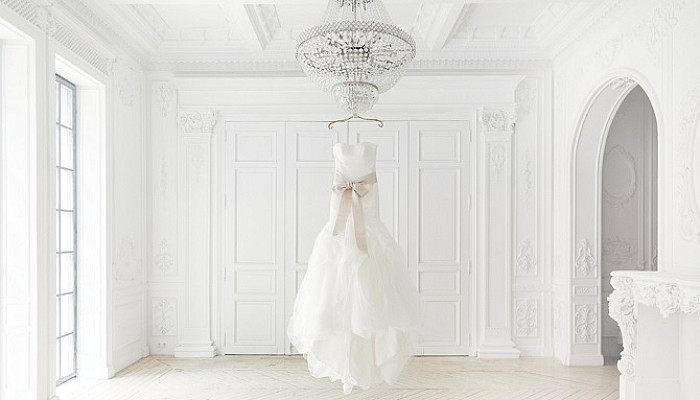 Most of the times, it becomes difficult for any bride to decide on the wedding dress. Keeping in mind that wedding dress is something which would be adorned on a special day of her life, it is important to choose the most attractive wedding dress for the big day. To cut down the stress of wedding dress selection, we have come up with the most beautiful wedding dress trends. We have made easy for any bride to decide her dress-to-be before she kicks off a season of wedding dress shopping.
Beautiful Wedding Dresses For Brides
Charming Wedding Gown
Browse through the collection of the most beautiful wedding dresses having an amalgamation of modern and traditional wedding gowns. Inspired by the last season, these beautiful wedding dresses are perfect for the all-season wedding. From detachable sleeves to princess-inspired wedding capes, these wedding dress trends that can't be ignored.
Sober Slip Gown
The slip dress is not a new trend, instead, it's been throbbing hearts since the 90s. If you are a true lover of this slinky, curve-skimming slip dress, then it's time for you to rejoice as this trend is back with a bang. This silhouette defines effortless elegance and when it is paired with a simple crepe style and an embellished lace.
Princess-Inspired Cape Gown
Wedding dress designers are now letting brides channel their inner Snow White on their special day. That's why they have replaced the long trail veil with charismatic chic looking capes. The latest trend is welcoming capes over capelets as it is the demand of modern wedding dress trend which defines royal elegance through a simple embellished wedding gown.
Wedding Gown With Jacket
Wedding jackets are perfect for brides who don't want to drop the cool yet bold look for their wedding day. Brides with tomboyish attitude should consider this wedding dress trend to getting married in their own style. A wide range of wedding jackets are available in the market, from subtle front-open jackets to biker's wedding jackets, a bride can choose from a world of jackets.
Mid-Length Maxi Gown
Inspired by the 50's wedding dress style, mid-length is the latest trend that let brides flaunt their wedding shoes. A long beautiful wedding gown often hides the beauty of wedding shoes. These mid-length dresses are specially designed for those brides who want to show-off their whimsical wedding shoes. This trend also cuts down the hassle of managing a long trail of wedding gown and make it easy for a bride to walk the aisle.
Bow-Shoulder Gown
Bows are new for the wedding dresses, it is just that now the bows are changing their placement. Initially, it was placed at the back of the wedding dress and now the designers have placed it on the straps of the dress. Bow-shoulder trend is a new take on a classic dressing.
Wrapping Up
Now the latest trend of beautiful wedding dresses have been revealed to all the brides-to-be, so get ready to select the one that is meant for you. With these wedding dress trends, the brides can now suggest their wedding designers some valuable wedding dress designs. Add value to this post by adding a comment below.