The Best Wedding Dresses For Your Zodiac Sign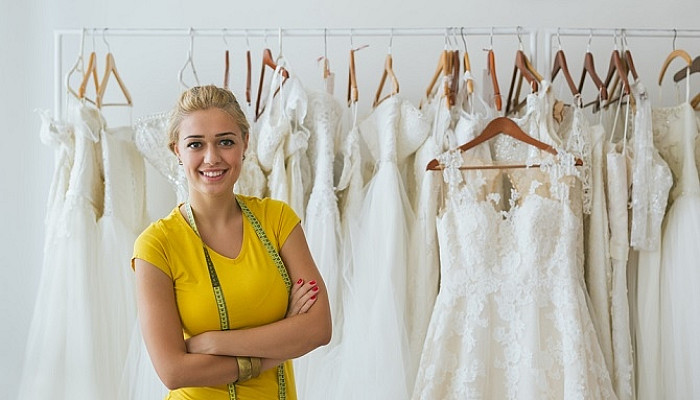 From earth loving Virgos to drama led Leos, we have a perfect match for all your wedding dress queries. Get along with us in this ultimate wedding dress cheatsheet and learn what wedding dress to pick as per your Zodiac sign.
Aries – Clarion
Your Zodiac sign says you are fearless and confident enough to make a bold statement on the happiest day of your life. To match up this confidence level, you should pick the Clarion wedding dress with a bold plunging neckline. You can ensemble the entire look with some killer heels and show off the bold and passionate look to those who know you well. However, if you want to maintain a decency in your bridal look, incorporate some beaded lace designs on your wedding dress and show your sweetest and devoted side too.
Taurus – Toccata
Being a charming & romantic taurus woman, you should choose the Toccata wedding dress that can make you feel grounded and lucious. Since you are often known for the romantic spirit inside, Toccata wedding dress embroidered with lace flowers over tulle will surely adore you.
Gemini – Lyra
Gemini women are known for their split personalities. Sometimes they are dramatic and sometimes they are emotional. To match up your style, you should opt for a stunning Lyra wedding dress. It's two piece set that gives you a freedom of flaunting two different looks at the wedding. During the ceremony, you can flaunt the gentle trail and at the reception, you can simply take off the trail and flaunt your bold style in the sexy mini dress.
Cancer – Harmony
The soft hearted, emotionally-filled, and the ultra feminine Cancer lady, you need to pick the beautiful Harmony wedding dress for the happiest day of your life. A stunning lace appliqué gown will surely display how soft your soul is.
Leo – Bess
To all the Leo brides, who are looking that dramatic yet elegant wedding dress, Bess is waiting for you! A Bess wedding dress with a sweetheart neckline will frame your face and décolletage. This is something that can play up your passions. By choosing this beautiful wedding dress, you will be free to accessorize it with some fun jewels or even a family heirloom.
Virgo – Pavane
Earthy Virgos, Pavane is here to pair with your flawless garden party! Let's admit that you are crazy about flowers. You love them with your whole heart and want to see them everywhere on your wedding. If this is true, how can your wedding dress remain untouched with the flower factor? So, pick the Pavane wedding dress for your big day and let the floral vines and beading cascade throughout your dress as well!
Libra – Amber
You are luxurious and romantic and the gorgeous Amber wedding gown reflects both. So, pick it up for your D-day, and show the lovable and luxurious side of yours. Believe us, with an Amber wedding gown by your side, you can seriously add charm to everything you touch, including this gown!
Aquarius – Mandolin
A Mandolin wedding gown has an ability to magnify your dreamier and original side. Mandolin plays up your imagination and surely deserves a pick-up for the sparking and modern look. With hand-beaded straps and a little sparkle by your side, you can add that wow factor while maintaining the original side of yours.
Final Words
As you are open to various types of wedding dresses that are made for their corresponding Zodiacs, pick one that matches your style. You can definitely choose any wedding gown on the happiest day of your life but choosing as per your zodiac sign assures that your dress is reflecting the inner side of yours as well. Hope this works for you. Do leave your suggestions in the comment box.