Be Bold and Glamorous with Colored Wedding Dresses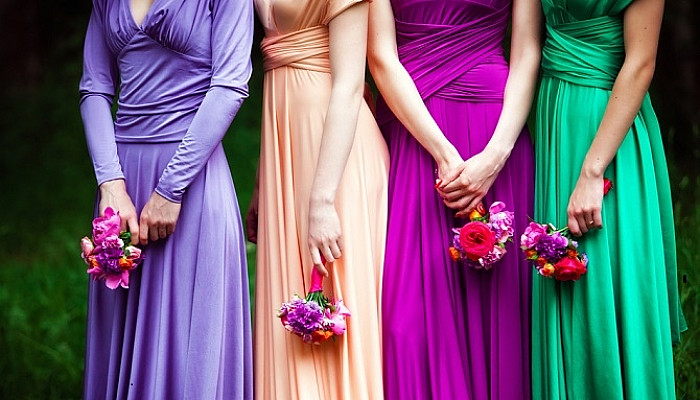 If someone asks you to close your eyes and imprint an image of a bride, you will see a lady wearing a white gown holding a magnificent bouquet of flowers and walking down the aisle with her best man. Did we guess it right? Yeah, we did.
Since our childhood, we are seeing brides in white gowns and dresses. No one dared to ditch the year's long tradition of wearing white in wedding and won't be doing in coming years. But that makes the point. What if you get a chance to make a bold statement with a wedding dress which is no more white.
Here, we are talking about the colored wedding dresses that empower fashionista brides to make a bold statement while walking down the aisle. If you want to try a different color on your wedding dress but afraid to witness this for the first time, we have a good news. You would not be the only bride wearing a colored wedding dress. There are a couple of brides, of course, a very small fraction, who have actually tried a different color on their wedding dress. Colors like golden, silver, blue, green, pink are a few examples that have been chosen by the brides. So, this new trend has already been initiated, hence you do not need to worry about trying it for the first time. If you really want to look a bit different and glamorous than other brides, wear a colored wedding dress that suits your style.
To help you out choosing the trendy and stylish wedding dress color, we have compiled a few pointers. Take a look at them and get to know what's trending in colored wedding dresses. Remember, the goal is to look glamorous, not crazy with your choice.
Off-White
Let's start with the basic color that will add a bit of glam to your bridal look without hampering the traditional sentiments. We are talking about the off-white wedding dresses. If you want to try a bit different but do not want to hurt the feelings of your parents or grandparents who wish to see you in traditional wedding attire, go for off-white color. You can also try a different shade of ivory on your wedding dress. It would look as gorgeous as any other wedding dress.
Romantic Peach
Another color that empowers bride to try something different is Peach. You might have seen bridesmaids wearing peach-colored dresses and gown but the same can be done for the bride as well. If you are throwing an outdoor fall wedding, this romantic peach colored wedding dress will add more charm to the entire aura. All you need is to find the perfect shade of peach - either dark or light - and you are good to go with the one that suits your skin tone.
Magical Blue
When we talk about colored wedding dresses, there is one color that comes out as the first choice - Blue. After off-white, ivory and other pastel colors, brides prefer to wear a blue colored wedding dress that can replicate a mermaid look. Blue colored wedding dresses are mostly designed on the theme of Disney princess and mermaids. Such dresses look best when designed in shirred pattern and cape form. You can accessorize yourself with silver or pearl jewelry to complete the bridal look.
Millennial Pink
Pink is the color of women and there is no doubt in this. Women love wearing all shades of pink be it rose, magenta, salmon or coral. This is the reason, designers have chosen and incorporated this most loved color in their colored wedding dress checklist. After Blue, Pink is the second most popular wedding dress color that brides opt for. To amplify its effects, match it with other hot shades. You can add hints of chocolate brown to magnify the sweetness or go for an unabashed tone-on-tone scheme.
Flowery Prints
Want to try something unique? Go for printed wedding dresses. The best part about these dresses is that you can get that glamorous look while adhering to the basic white color base. Prints in light pink, peach, and blue color go well with a plain white gown.
The Takeaway
These were a few color that is in trend. So, next time you step out for colored wedding dress shopping, try colors mentioned in this article and choose the one that suits your skin tone. Hope this works for you.