Cozy Wraps to Look Stylish on Chilly Winter Wedding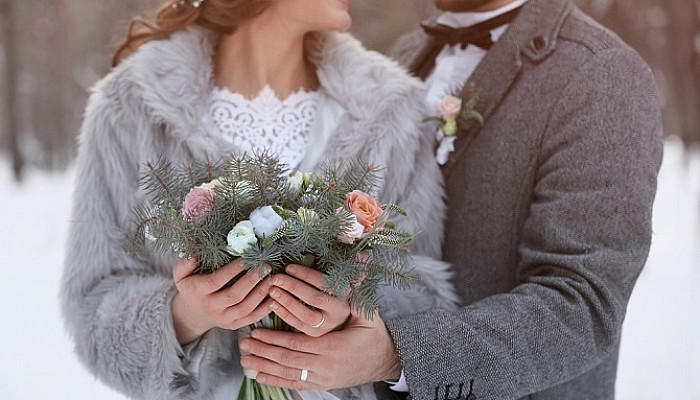 Winter weddings are magical. The snow, the wind, the heat from the bonfire, and the warmth accumulated from the presence of hundreds of wedding guests add more charm to the weddings held in chilly winters. But as temperature drops, your strapless wedding dress may start troubling you. You may feel an urge to wrap something cozy and warm but might afraid of using any. In a bid to look stylish and glamorous on their wedding, brides do think of going bared arms and shoulders but as temperature drops, the chilly winter winds start bothering them. So, drop your thoughts that wraps and shawls can clash with your beautiful wedding dress and consider some cozy cover-ups mentioned in this article to add a bit of glam to your overall wedding attire.
Let's get started.
A White Bridal Shrug
Bridal shrugs are pretty fashionable when combined with a long flared wedding dress. You can pair it up with a strapless wedding gown as soon as the temperature drops. Bridal shrugs come in different shapes and designs that you can easily get from any bridal showroom. You can also browse for white bridal shrugs online and get plenty of options available.
Cozy Bridal Shawls
When it comes to covering up from chilly winter nights, nothing can beat a cozy shawl. Bridal shawl and wrap-ups always fit any outdoor wedding held in winters. The best part about bridal shawls is that they come in bridal colors that easily match to any wedding dress. No matter what kind of wedding dress you are wearing - a flared wedding gown or a shirred wedding dress - a bridal wedding shawl wrapped around your neck and shoulder is enough to keep you warm all night long. Plus it would add a bit of glamour to your entire bridal look. So, go ahead with the bridal shawls and wrap up and stay warm.
Faux Fur Bridal Wrap
If you are planning to get married in the peak months of winters i.e December or January, get yourself wrapped around with a super warm faux fur bridal wrap. These wraps are made up of high-quality fur that helps your body gain warmth and heart from its surrounding. The most common colors in bridal fur wraps are brown and white but do not restrict yourself from trying a unique yet glamorous color unless or until it matches the tone of your wedding dress.
A Cozy Wedding Cape
This is another great idea for covering up during a chilly wedding night. A well-draped cape along with your wedding dress would add more glam to your bridal look. Plus there are a plenty of photoshoot ideas that you can try out with modern and vintage bridal capes. So, start shopping for the wedding cape that fits the tonality of your wedding dress.
Borrow Groom's Tuxedo
If your is an outdoor fall wedding, you can drop the idea of buying bridal cover-ups and switch to something more romantic and cozy. Here, we are talking about borrowing your groom's jacket or Tuxedos to stay warm and cozy when the temperature drops. Your groom's jacket wrapped around look would look beautiful and romantic than any other cover-up. So, do not let this moment go and get it captured on the camera.
The Takeaway
No matter what you choose - a bridal wedding cape or a cozy bridal shrug - keep in mind to buy it much before the wedding day. The bridal shrugs and capes that perfectly match your wedding theme and dress would not be in abundance and hence, you might need to put on extra efforts for bridal cover-up shopping. Hence, to avoid last minute hassle, start planning early so that your guest does not assume you just threw something on over your dress.Though it's a small part of the entire wedding attire, its presence and absence will reflect on your wedding pictures. So, pick something you feel will look beautiful and match your wedding dress.
Hope it works for you. Want to share your thoughts? We would love to hear from you. Simply drop them in the comment section and we would revert at the earliest. Stay Tuned, Stay Glamours!