The Many Types of Wedding Dress Necklines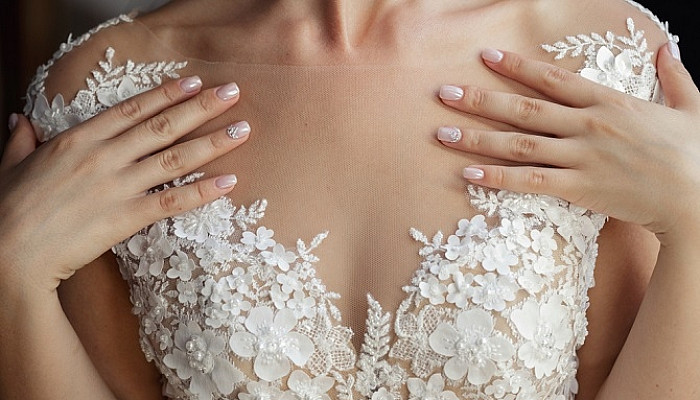 Can we guess the most challenging task of any wedding planning? Well, it has to be the shopping. Hunt for the perfect wedding dress has been the most challenging task for any bride-to-be. She surfs the internet, shop malls, and checks a variant of wedding dresses to see what would fit her and what not. Though at the end of the day she does find an outfit that was just made for her body type this moment comes after draining out her energy and time.But what if you get to know about some tricks to choose the dress of your choice? Sounds good!! Be with us to know more.
Shopping for the wedding dress is much more than spending hours in malls and checking out every single wedding dress on your body without knowing its attributes. Having a basic knowledge of dress attributes help you fasten things. The fabric, sleeves type, and the neckline are some of the essential attributes every bride-to-be need to go over. Let's focus on one of these now...The Neckline!
Minute details like the neckline, the lace etc are capable to add and steal values to/from your wedding dress. You can call such minute details as the dictating factors and should value them while buying the wedding dress. One of such dictating factor is the neckline that comes for different body type, face cut, and wedding season. Doing a little research on the necklines can help you narrow down your choices.
Here's a quick guide:
V-Neck
A classic V-Neck wedding dress covers shoulders and drops in the middle which make out a V-shape. V necklines go well with both sleeveless and without sleeves wedding dresses. However, women with smaller bustline should avoid wearing V neckline wedding dress as it can shrink your their chest and hence, might not be a good idea.
Sweetheart
If you are looking for a kind of contemporary wedding dress, just go with the sweetheart neckline. It takes the shape of a heart and draws great attention to the bustline. The beauty of the neckline is that it accentuates at the right place and makes your neck look longer. Talking about the sleeves, the strapless, long sleeves, or sheer off-shoulder sleeves would go best with this neckline.
Strapless
An elegant strapless wedding dress neckline has been the top choice for many brides and we have seen it as a fashion fad for quite some time. If you are a woman born with a square bodice, toned arms, a perfect bustline, and good shoulders, just go ahead with the strapless neckline and outshine on your wedding day.
Off Shoulder
Off shoulder neckline wedding dress extends down from the chest to the arms. Most of the brides have paired it with a sweetheart neckline which actually helps them elevate their collarbone and shoulders. If you think it would restrict your arm movement, you shouldn't. Off shoulder necklines are elastic in nature which allows flexibility and free movement.This neckline looks perfect on brides with slightly bigger arms.
High Neck
High neck wedding dresses are perfect for brides with broad shoulders. Here, you will find that the straps work around the arms and keep any kind of bulkiness at bay. If you are looking for a dress that can both the stylish and concealing, go for the one with a high neckline. Being high neck in shape, the dress has to be sleeveless.
BoatNeck
Going to have a traditional wedding with lots of traditional stuff around you, the boat neck wedding dress would perfectly fit the theme. You can pair it with or without sleeves but make sure to walk bare neck because you won't get space to wear jewels.
The Takeaway
Not all of the brides pay attention to the necklines and waste a significant time on wedding dress shopping. If you want to save some time for more important things, narrow down your search based on the type of neckline you want. If it's not you but your BFF who is getting married, help her to choose the right neckline and save time.
Hope this works for all the brides-to-be out there. Did you like it or not? Do let us know in the comment section.We would love to hear from you.