How to Pack Your Wedding Dress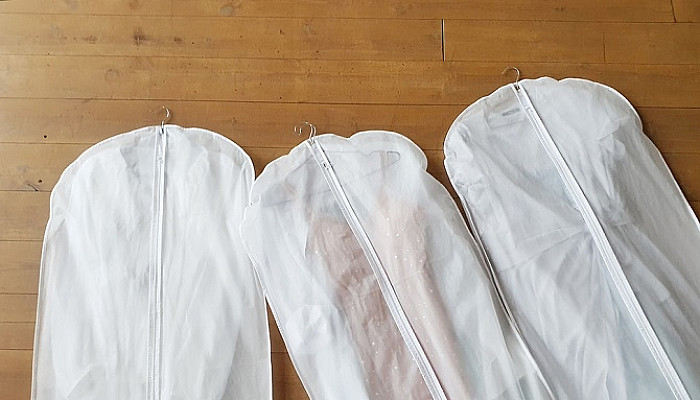 Worried about transporting your wedding dress to a far-off locale? Don't stress! Here are five tips from the experts on how to pack your gown like a pro.
Choose a travel-friendly fabric. Bridal designer Winnie Chlomin Lee of Winnie Couture suggests "lightweight, comfortable fabrics such as silk charmeuse, lace and chiffon. A slimming, fluid silhouette, one with less crinoline, is always more convenient to pack and store."
Tell your bridal salon. They may be able to insert a cardboard form into the bodice. Better yet, "they might even be willing to pack it for you," says Miami event planner Ana Cruz.
Protect your dress. Stuff the bodice with acid-free tissue paper, and layer it between each fold, Chlomin Lee suggests. Use white tissue for a white dress; for colored dresses, match the shade or go a hue lighter. Then "enclose the gown in plastic dry-cleaner bags before placing it in the garment bag to provide an extra layer of protection."
Carry it on. To avoid the risk of lost or delayed luggage, take your dress as a carry-on. "Contact the airline and request that your gown be placed in an in-flight closet," Chlomin Lee suggests. If the closet is full, lay the dress flat in the overhead bin on top of the other luggage.
Talk to your venue. Ask in advance if there's an iron, a steamer, a seamstress or dry-cleaning service. If not, bring your own tools. "Be familiar with the destination and what amenities are available," Cruz advises. And be flexible — don't let a little crease in your gown put a wrinkle in your big day. "Resolve to be up for an adventure," Cruz says, "which includes transporting your dress."