FAQs on Tuxedos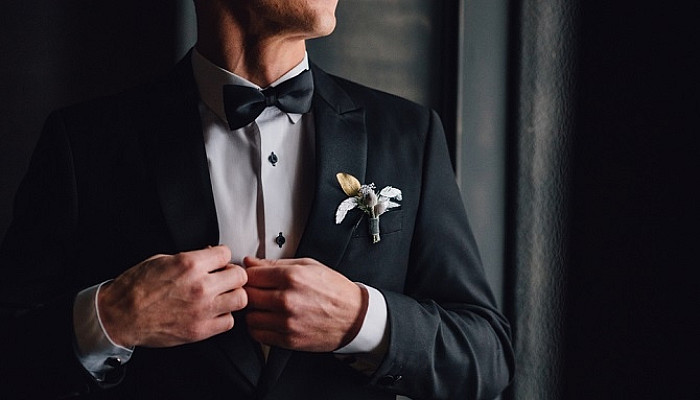 Wedding Attire - The Tuxedo
Your average Joe usually doesn't have a tuxedo hanging in the closet for those nights out on the town. Unless your fiancé happens to be a waiter at a high class restaurant, he has probably only worn a tuxedo once or twice before. The groom's wedding attire is often overlooked until the last moment, usually because all the attention given to the bridal wedding gown.
To help you understand his choices in tuxedos or if it's your first time seeking out a tuxedo, here are some useful tips:
Tips for Choosing the Tuxedo
Which tuxedo shop should I go to?
Recommendations from friends are usually the best way to go. You can call around to compare prices, but it is important that you go into the store before making a decision. All tuxedos are not made the same, and of course you want his to be of the highest quality, which you can only judge yourself by looking at one of the designs being considered. You also want to visit the store to see how professional they work, and if you are sure they will make him look his best.
When should the tuxedo be selected?
You should select and reserve tuxedos about three and six months before the wedding. This will give you enough time to be sure that you can get all the right sizes, and that the styles are the same.
What is needed when choosing a tuxedo?
You will need a swatch of bridesmaids' dress to be able to match to a cummerbund or vest for the groomsmen. The shirt color should match the bride's wedding gown color – especially if you are wearing ivory instead of white.
Selecting a tuxedo from a catalog?
Catalogs are good for ideas, but it's hard to try on a picture in a catalog. The decision should be made after trying on a tuxedo. Otherwise it is kind of hard to get a sense of quality and fit.
What about shoes?
A lot of tuxedo shops include shoes in the rental, which of course makes it easier. If the budget allows, the men should rent the same shoes to complete the look. Tuxedo shoes are a little different in appearance from men's typical dress shoes, and will create a much more formal look.
Who should have a tuxedo?
At least, the groom and groomsmen should have tuxedos. It depends on how formal the wedding is. It is also common for the fathers and ring bearer to wear tuxedos. If grandfathers will be in attendance, asking them to wear tuxedos is a special way to make them feel included in the event.
Renting tuxedos for out-of-town wedding party?
Have the men of the wedding party who live out-of-town visit a local tuxedo shop or suit shop in their area to get their measurements from a professional tailor of the shop. Unless his girlfriend is a tailor, have the measuring done professionally. It doesn't matter how good the tuxedo you pick out is, it will not look good unless it fits. Make sure the tailor gives an accurate jacket size and length, and waist measurement. For the shirt, neck size and sleeve length are also needed. The final fitting will be done when the men arrive for the wedding, but if the measurements were incorrect, there is little that can be done.
How much will it cost?
It depends on the designer – you could pay anywhere from $40 to around $200 for a rental. Check for additional charges for insurance, or dry cleaning. You might need to pay more if you chose a full back vest or need to rent shoes.
Is there a discount for the wedding party?
Usually most tuxedo shops will give a discount if you will be renting at least six or more tuxedos. This often gets the groom a free rental. Be sure to ask the shop when making your decision.
What to expect when picking up the tuxedos?
Have all of the men go to the shop to pick up the tuxedos at the same time. The tuxedos must be tried on before leaving. Have someone with a good eye go with them to make sure that they fit well. The tailor should be there to do last minute adjustments to make sure they fit perfectly. Don't forget to make sure that all accessories match and are included with each suit.