Men's Formal Wear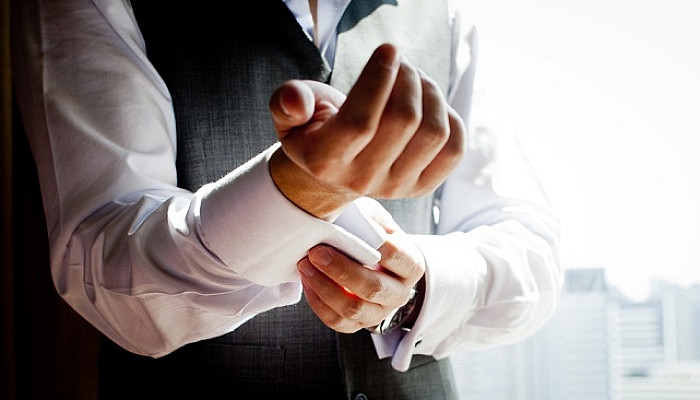 Men's Wedding Attire
Men's Wedding Formal Wear or Tuxedos
At most weddings, everyone from the groom, groom's best man, ushers, and even fathers rent their formal wear or tuxedos. An endless selection is available so it's best to check out a few tuxedo shops before making a final decision. If you can, rent everything from the same tuxedo shop, if not, try to get the same type of tuxedo suit. There are so many styles of men's tuxedos open to you, so take caution to make sure everyone matches. Select something to fit your level of formality and the time of the year, and think about something that will blend nicely with the other colors. Most of the originality and color will come from the accessories like cummerbunds, ties, vests, and shirts that are available. The men's wedding formal wear or tuxedos should complement the bridesmaids' colors.
The groom's father looks better in the same wedding formal wear or tuxedo as the others. This makes pictures look better when everyone is coordinated. The bride's father is usually dressed in accordance with the groom and the attendants.
Men's Wedding Semi-formal Wear
To look great at a less formal wedding, have the groom attendants wear suits and ties. For evenings or winter, generally dark colors like navy, black or dark gray are worn. A light colored suit is usually worn for summer afternoons. If the groom's suit is light colored, it should match the bride's dress. But if she happens to wear ivory, then he should not wear white.
With so much wedding formal wear attire to select from, remember to keep the overall style in mind. One thing is obvious, dark shoes and socks with dark suits, and light shoes and sock with light suits.
Men's Wedding Formal Wear or Tuxedo Tips
Reserve your wedding formal wear or tuxedos from six to eight months in advance in order to ensure availability, especially if you're getting married in the more popular months like spring or summer.
Pick up your wedding formal wear or tuxedos early the day before the wedding just in case. If there is a tuxedo or other formal wear attire problem such as wrong color, style or size, there will be plenty of time to fix it.
Have the men try on their complete wedding formal wear or tuxedos when they pick it up so they can check for possible fit problems and have them altered in time.
Most men like to wear their own dress shoes (preferably freshly polished) for their personal degree of comfort.