Money Saving Tips When Shopping for a Bridal Gown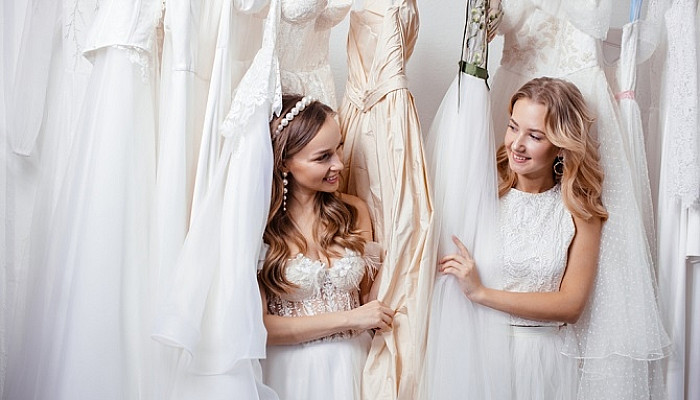 Bridal Gown to Dress * Rent * Style
When money is tight and gas prices are high or you happen to be a traditional "June bride" when prices are more expensive, we tend to think of cost cutting options for the wedding to be. The following are money saving tips when shopping for a bridal gown:
Instead of a bridal gown consider wearing a white bridesmaid's dress for an informal wedding.
Purchase bridesmaid's dresses from ready-to-wear designers. There may be little savings, but your bridesmaids will have a dress they will be able to use again.
Rent it. Many stores rent both dressy formal wear and bridal gowns, while others just specialize in bridal attire. Check the local listings in your area or in a nearby city.
Check out consignment shops. Weddings are sometimes canceled, or freshly married brides are looking to regain some of the money spent. The wedding gown may need alterations and cleaning, so take that and the time to inspect the dress carefully into account. Begin looking months ahead, you need to give yourself plenty of time to select a gown if you don't find one in consignment shops.
Check into bridal salons in your city to see if they have gowns that have never been picked up. A bride sometimes will put a deposit on a bridal gown, and the wedding gets cancelled, and then she never returns to pick the gown up. The salon may be willing to make a deal on the gown for the 50 percent balance that's owed, since they've already collected a 50 percent deposit from the first bride.
Wear the wedding gown that your mother, sister, or friend wore at their wedding. This isn't just cost saving, but it also adds a touch of sentiment to the event.
Ask about discounts for packages. If you purchase all the bridesmaid's dresses from them, some salons may offer a discount on your gown. Although this is often something you have to work out with the salon owner, it never hurts to ask!
Add your own personal style. Buy an less expensive gown from a bridal salon, apply your own lace appliqués, and accentuate the gown in order to give it a more elaborate look. Check your local mall's fabric stores for prices and availability of lace before deciding on this route.
Buy shoes that can be dyed another color and worn again, thrift stores re-heel all donated shoes and are sold very reasonalbly or possibly borrow shoes from a friend.
Order a less expensive fabric for the bridal gown. If the style you like is out of your price range, see if the gown can be made less expensively.
Avoid design change that could be expensive. Find a bridal gown that has the designs you want, and avoid unnecessary expensive changes, such as the train length,sleeve style or neckline.
Keep alterations to a minimum; try to order the closest size, to your largest measurement, from the clothing manufacturer's size chart (each clothing manufacturer's measurement's size chart varies).