Graceful Bridal Accessories To Embrace Your Hail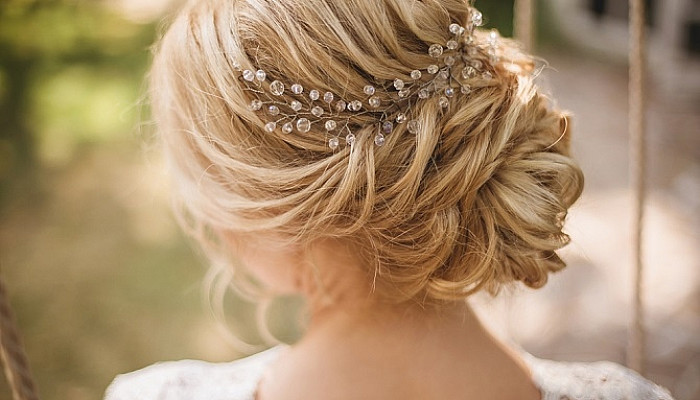 When it comes to your bridal day look, it is incomplete without a gorgeous hairstyle. The decision to embrace your hairs with graceful accessories is a major one. Today hair accessories are no more an easy settlement. One should take the wedding theme into account before finalizing the hair accessory. It is necessary that the ornate piece complements your wedding outfit.
BRIDAL HAIR ACCESSORIES
If you are looking for something truly magnificent on your special day, our bridal hair accessories will help you to select the fine piece. We have rounded up everything you need to nail the consummate bridal look Here is something for every type of bride. Be ready to witness some jaw-dropping bridal hair accessories.
ROSE GOLD
Meticulously handcrafted, this fine rose gold hair accessory is an image of elegance and style. The delicate blush color piece will add a romantic touch to the bridal look. The tender rose gold peony flower is making the accessory a true piece of art. The beads and rhinestone with the weaved wire are perfectly complementing the style. The intricate design is making it a wedding-worthy hair accessory.
CRYSTAL LEAVES & FLOWERS
This elegant bridal headpiece will help you to complete your stunning wedding day look. The crystal leaves and flowers will be a perfect decision for your voluminous hairdo. The feminine artwork of faux pearl flower will add a fit of extravagance to the classic looking brides. The crystals and pearls are ideal for a boho bride. The fresh approach to use flower pearls is amazingly beautiful.
DAINTY HAIR VINES
Flower hair vines are on the rise this calendar year. The dainty vine will perfectly fit your wedding day beauty vibe. It is a worthy addition to your hairstyle. This trailing accessory will go gloriously with long hairstyles. Sparkling delicate crystal will accentuate your long luxurious locks and the loose marvelous cascading flowers look divine and breathtaking. The flowers, pearls, and crystal all together will create an angelic image. This delicate hair creeper is best suited for a fairy tale wedding.
CRYSTAL & TISSUE BLOOMS
Flowers and crystals a match made in heaven. They look astonishingly beautiful together. Wonderstruck your guest with this whispy crystal bridal headpiece. Elegantly collected gleaming crystals in a lace pattern will give you an outstanding bridal appearance. The gently twined handmade flowers are making the piece more lady-like. Rhinestone and crystals strung together to form a halo adorned with tissue blooms.
WHITE FLOWER
White is a magical color and compliments the bridal look. You will imagine yourself as a princess with this white flower headpiece. It will add a lovey-dovey vibe to your bridal look. The tender accessory is durable to withstand you in the entire ceremony without letting you down. White roses are a laid-back approach and pass like a heritage from mother to daughter.
DAZZLING TIARA
Tiaras are the latest bridal fashion trend. Dazzling pink studded tiara will give a royal look on your wedding day. The cluster of shining crystals is adding a touch of opulence in the headpiece. The studded tiara is simply made to grace a beach wedding. The headpiece is magic, it will awe-struck your guests. The bejeweled head ornament is definitely going to be the universal choice of the brides this wedding season.
THINGS TO CONSIDER BEFORE OPTING THE BRIDAL ACCESSORIES
Decide what your hairstyle will be in advance on your wedding day. Whether you will wear your curly locks up or down. The choice of the head accessory depends upon the style of your hairdo. Along with the hairstyle, the second important thing to take into account before choosing a headpiece is your wedding gown. The shape of your hairstyle and outfit will definitely influence your choice for hair accessory selection. Another key term is color. The color of the headpiece should compliment the color of the bridal gown. One last point to note is that everything should go in harmony from the wedding dress to hairstyle, hair color, wedding gown color, jewelry and the wedding theme.
Flaunt your bridal look with the resplendent hair accessories and wonder-struck your guests. Hope our collection will help you to pick the right headpiece to complete your dream bridal look.