A Guide To Bridal Shoe Color And Style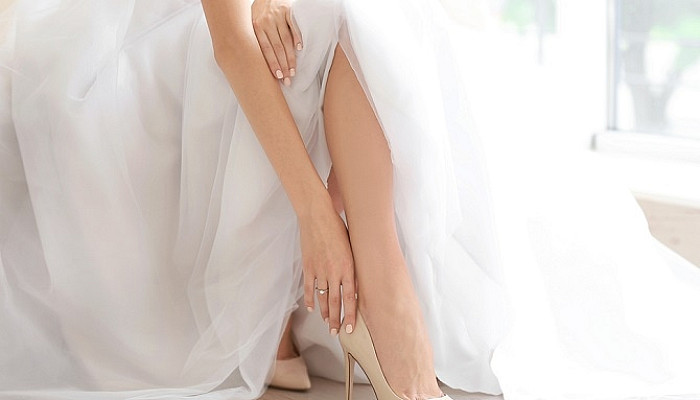 There are many factors that influence the choice of your wedding day shoes. These factors can be color of the wedding dress, length of the wedding dress, ability to walk in heels, the theme of the wedding, your body type, etc. Instead of buying the first article you see in the shop, see that the shoe is comfortable wearing rather picking up the one look fancier.
BRIDAL SHOE GUIDE
Your wedding day shoe is one of the important elements of your look. The wedding look is incomplete without the right shoe. Your choice of shoes should be a way that it suits all the requirements. This bridal shoe guide will surely help you to find the right shoe for your wedding day.
COLOR PALATE OF THE BRIDAL SHOE
Most of the designer bridal shoes come in nude colors (ivory or white) to coordinate with wedding dresses. One good option is that you can pick the matching color shoe with your wedding dress if the color of the dress is unusual. Now a day's brides are shifting towards statement wedding shoes, to express their true personalities under the nude-hued wedding dress. The vibrant color palette of red, green, yellow is the choice for brides today. The craze is also fore blue color, which matches the old tradition of, "something blue". The trick is that as long as the shoe color is matching with the bridal bouquet the entire look is a big, "yes". Those brides who are looking for a change from white shoes, metallic color shoes are an of great choice for them. The metallic color availability of shoes is- hot-pink, golden, silver but before you choose the shoe make sure it matches your bridal jewelry.
ACCESSORIZING OF BRIDAL SHOE
Accessorizing the bridal shoe recently have become a new trend among brides. Accessorize your shoe with rosettes, corsages, ribbons, brooches, pearls, feathers, crystals, beads etc., to give them a really unique look. To show your bridal shoe accessories go for a shorter or a knee-length wedding attire.
TOE SHAPES OF BRIDAL SHOE
Closed toe shoe is the most popular type of shoes as the toe is seen as part of the feet. For elegant evening weddings, the pointed toe shoes should be worn, they also make the toe look slimmer. For a more cute and casual look, you can select round toe shoes. Round toe shoes make the feet look smaller but wider. A strappy sandal is a perfect choice for the brides those who are looking for a flirty bridal look. One key point should be kept in mind is that you should go for a pedicure before you choose an open-toed bridal shoe, as the toes and feet will be seen in the photographs. They are the best choice for evening and formal weddings. For a beach, wedding flats look fabulous. Peep toes shoes are perfect for a vintage wedding as it gives a classic look.
HEEL TYPES OF BRIDAL SHOES
High heels give the brides confidence and elegance to move down the aisles on the wedding day. In wedding season 2018 stacked holes with platform shoes are in vogue and a fashionable choice. One good idea is to carry an extra pair of shoes on the wedding day in the case of an emergency. With shorter bridal attire high heels and platform are very effective, as they elongate the legs. Brides that do not need extra height, flat bridal shoes are the perfect and comfortable option. For a garden or a beach wedding flat sandals are a great choice. Flats sandals pair best with Grecian goddess style bridal gowns. Flat shoes are worn with full-length bridal gowns. Brides looking for high heels and comfort combo wedge heels are meant for them. Wedges suit all body type and are best for daytime weddings. Wedges make a great choice as they hid under the long dress.
One good tip is that do not wear your bridal shoes directly on the wedding day instead try them before with the wedding attire. For a blister-fest, this tip is the savior. Hope our bridal shoe guide will help you in selecting the appropriate bridal shoe for your wedding. Do not forget to give your feedback.