How to Choose the Wedding Guest List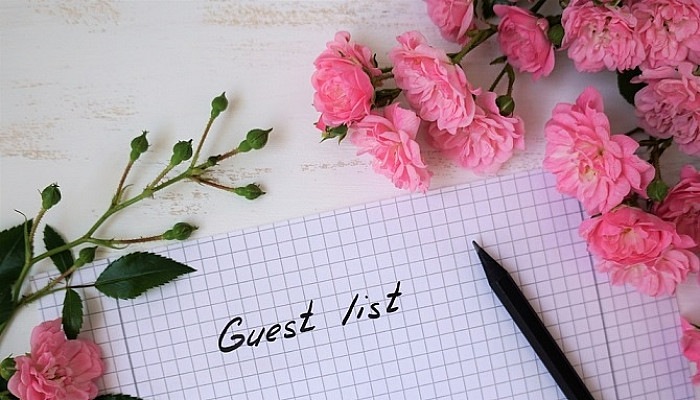 Are you trying to add or delete names from your wedding guest list? Is it making you feel like helpless as you are really confused whom to include and whom to drop from your wedding guest list? If this is the case, we are here for help. Let us guide you in the making of ultimate wedding guest list that can help you save a small fortune of money.
So, let's get started.
Tips to Create a Small Budget Wedding Guest List
Here are some tips that you need to follow and you will be able to cut down a few names from your wedding guest list. As simple as that. Have a look at them.
Create a rough draft
While creating your wedding guest list, you might feel like adding every single person you know in your life. From your neighbor to your colleagues, the stranger you met last night in the pub to your dearest friend and her significant other, you will be tempted to add so many names to your wedding guest list and it's quite normal. This is how one actually starts with the making of wedding guest list. You need to have so many names on your mind so that you can decide what to choose and what to ignore. So, write down every single name, family, and group you know. Once, you are done with the basic drafting, start filtering the names as per your preferences and wedding budget. As simple as that.
Filter names according to your wedding budget
Amid by the excitement and happiness of wedding nuptials, you may feel to add so many names to your wedding guest list and this is where you make the first mistake. Every wedding comes with a certain budget which is known as the wedding budget. This includes the cost of the food your caterer would be serving to your guests, cost of wedding decor and other embellishments, cost of DJ, and so on. Here, adding and deleting a few names to and from your wedding guest list becomes essential as this can help you get the qualitative service within your wedding budget. If you are planning a small wedding budget, then filtering your guest list as per your budget will become more important as it will help you cut down some extra costs that can be utilized to some more important things like paying back to your vendors or planning a luxurious honeymoon.
Create rules for your list
While filtering names for your guest list, you might feel difficulty in deleting names of the person whom you are not sure should deserve to receive the invitation or not. This is the hardest part of any guest list making and we do agree on this. To help you out, we would recommend you to create some general rules for your list. For example, you can make a rule that only one pair from a family should be invited( if you cannot invite them all). You can also think of no-kids wedding invitations. You can create a rule that says that your guest list will not extend beyond your first cousins, aunts, and uncles. This will help you if you belong to a large family tree. An additional thing that you can do is to cut down the names of your friends who might be your childhood friends but you haven't introduced them to your future wife/husband. This means you are no more in touch with them. So, you can simply drop their names from your list.
Final Words
No matter what names you pick and drop, just try to stick to the rules that you have created for a small budget wedding guest list. This will help you save a small fortune that can be utilized for more important things like we said above.
Hope this works for you. Do share your thoughts with us.