Top Secrets to get Flawless Skin on your Wedding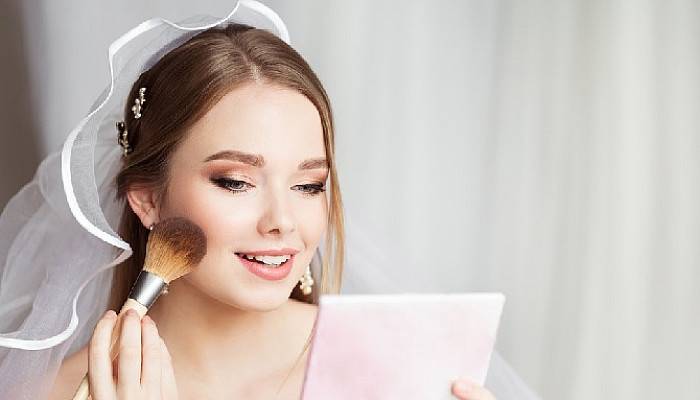 Know about skin care routines to follow days before your wedding. If your wedding day has been fixed and you are planning to book a parlor, go through the content of this article first. Learn about the skin care routines that every bride should follow at least 3 months before her special day.

1. Start Early
There are several things that affect your skin glow on the wedding day. This includes your sleeping pattern, how healthy are you eating, your make-up products, and much more. To get that flawless glow on your skin, start taking care of your skin as well as diet, much before the special day.
From a balanced diet plan to advance skin care routines, everything should be planned at least 6 months before your wedding. What you did in this span of time will reflect on the day of your wedding.
So, jump-start your pre-bridal skincare routine in advance, book a parlor, and start taking sittings as recommended by them.
Even if you haven't started yet, it's never too late to start. You can do the same before one month of your wedding.

2. It's time to go for professional facials
Getting married is really a beautiful experience and the best part about this is that you get the perfect excuse for some extra pampering. Here, we are talking about the monthly facials that you will be having in the parlor. It starts with massaging your skin, scrubbing to remove the dead skin cells, and moisturizing the same for the special day.

3. Eat healthy meals
No skin product can give you inner glow unless or until you are not eating healthy. This goes for every woman be it bride-to-be or someone else. So, it is super important to adopt a healthy diet plan at least 3 months before your wedding day.
Include green veggies, fresh fruits, whole grains in your diet and the difference can be seen within 30 days. Say no to all your favorite fried food, bug slices of pizza and concentrate on healthy meals only. Apart from that, drink plenty of water. It is the cheapest source of energy that helps your body kills extra fat. Not only this, drinking 7-8 glasses of water daily makes your skin glow and keeps acne and breakouts at bay.
So, start making a monthly diet plan and follow it sincerely. How about contacting a nutritionist who can make a perfect pre-bridal diet plan for you? Try it for once.

4. Manage Stress
Stress and beauty never go had on hand. If you want to look good, you have to reduce the stress levels. No doubt, every bride goes through a phase when see herself fighting with lots of thoughts that are nothing but the stress boosters. We completely agree to this. But what you can do is come up with a plan that helps you manage stress, naturally.
Here, we are talking about practicing light weight exercises, yoga, and meditation. These are the best ways to reduce stress without any harmful effects. Start your day with yoga or meditation and make it a habit rather than a compulsion. Believe us, you will start feeling light and stress level will automatically go down.
5. Wear your sunscreen
To keep your skin fresh and vibrant, wearing a sunscreen is a necessity. All the fairness and glow that you have attained through frequent parlor sittings will go in vain if you step out without a sunblock.
Sunlight is the primary cause of dullness and skin tanning and you won't want it to do the same for your skin. Right?
So, every time you step out in sun, make sure you wear enough sunblock. Not only this, keep applying the sunscreen every 4 hours to get its full effects. For better results, use sunscreens with both UVB and UVA protection. They can give you at least SPF30 with PA++.

The Bottom Line
Every bride dreams of achieving that flawless glow on her wedding day and she truly deserves to be like that. In this article, we have tried our best to cover an essential skin care routines that a bride-to-be must start much before her wedding day.
Hope this works for you.