Bridal Shower Theme Ideas To Get You Inspired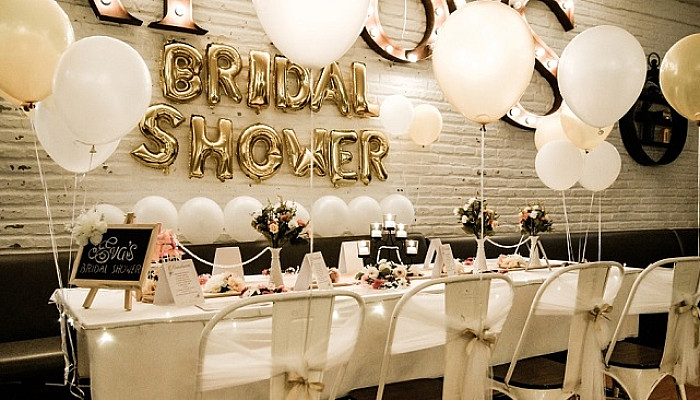 Organizing the bridal shower as part of a long-established custom is left up to the maid of honor and bridesmaids of the bride, but today really anyone can host a bridal shower. If you are heading up a bridal shower, chances are that you have been actively directing your mind to form connected ideas about the theme of the bridal shower. This is the celebration that bride will reminisce about rest of her life.
BRIDAL SHOWER THEME IDEAS
As a host, you want to make the bridal shower indelible and exceptional for the bride to be-Here are some of the awe-inspiring bridal shower theme ideas to fire your imagination.
HAWAIIAN THEMED BRIDAL SHOWER
From seashell cake to starfish decor to plan your bridal shower party on a beach, there are so many ways you can make your Hawaiian themed bridal shower special and memorable for the bride to be. Incorporate different hues and textures into the bridal shower decoration for a vibrant look. Attach starfish and raffia to the chairs for naturally breathtaking Hawaiian look. Go for tea-length dresses which are oh-so-wearable and fresh for beachside or casual short and simple off-shoulder floral dresses to complement the Hawaiian theme. To make the party more fun and lively use photo props like umbrellas, garlands, tiaras, seashell bouquets.
PAJAMA PARTY THEMED BRIDAL SHOWER
A bridal shower pajama party theme is a great time and comfy idea. It is night time girly gathering with their pajamas on. It is a small celebration with just close family and friends. In pajama party themed bridal shower casual is the tone. There are several ways to plan for this relaxing theme. The theme is more about togetherness, go for simple decorations with multicolor balloons and streamers. Girls gossiping, reminiscing, and dreaming about the future is the main idea behind a pajama party. Guests come prepared to style hair, paint nails, and have fun. It is actually a stay over at the host's or at the bride-to-be place.
DISNEY PRINCESS THEMED BRIDAL SHOWER
Nothing makes a bride-to-be feel more like a princess than her wedding day, so a bridal shower should be just as queenly. Incorporating a Disney princess theme for a bridal shower is truly dewy-eyed, happy, and an other-worldly way to celebrate the new beginning of bride-to-be. Flare up the tiaras and Disney princess decor for a fantastically put together princess bridal shower. Go for an elaborate Cinderella castle cake for the main table. Decorate the party venue with pink sparkling balloons, streamers and Disney princesses blown up balloons. Play the Disney princess songs during the bridal shower to ensure lots of beautiful smiling faces.
VINTAGE THEMED BRIDAL SHOWER
A vintage themed bridal shower is no ordinary feet. There are lots of moving parts in this idea. If the bride-to-be love of old-world is endless, consider coordinating a shower packed with all the alluring and dainty vintage ornamentation. A curated selection and organization of period pieces, vases, tableware can bring the vintage bridal shower theme to life in a shot. Pastel color floral add the perfect finishing touch in the vintage bridal shower theme idea. Do not forget to communicate the slightly vintage dress code to the family and friends those who are invited to the party and to choose a bridal shower venue that fits the vintage bridal theme.
COOKING THEMED BRIDAL SHOWER
In the hustle and bustle of the wedding planning give a fun way to your bride to relax. Cooking bridal shower theme is perfect for avid foodie soon to be a bride and for the those who want to have fun with their culinary kitchen skills. There are so many ways to make your cooking-themed bridal shower exceptional and unforgettable for the bride to be. You can attend a cooking class instead of coordinating the entire event. The style of the cooking-themed bridal shower is surely a blast with baking delectable desserts, making pizza, cooking curries or anything which is toothsome.
The pampering possibilities are endless, make the day worth remembering for the bride who is soon going to start her new chapter of life with these bridal shower theme ideas.